Asus is the top brand in Taiwan; Acer is fourth and HTC sixth
17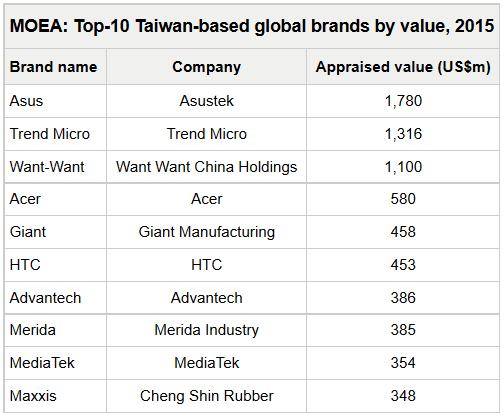 Asus is the most valuable company in Taiwan
According to a list released by the Ministry of Economic Affairs in Taiwan, Asus is the leading brand in the country, valued at $1.78 billion USD. The company has hit a home run with the globally offered
Asus ZenFone 2
,
the first smartphone to be offered with 4GB of RAM
. The next mobile company on the list is Acer, valued at $580 million.
Sixth on the list with a value of $453 million is HTC. The beleaguered manufacturer has just released the
HTC One A9
, which might not have what it takes to help HTC turn things around. Chipmaker MediaTek takes the ninth spot on the list, valued at $354 million.
While the MOEA provides the list, the valuations are calculated by Interbrand, a U.K. branding expert. According to the Taiwan economic agency, the top 20 brands in Taiwan are worth US$8.956 billion in 2015. That happens to be up 2.6% from the value of the top 20 Taiwan firms that was calculated last year.
source:
Digitimes