Asus Zenfone 2 with 4 GB RAM pops up on Amazon with a sub-$400 price tag
12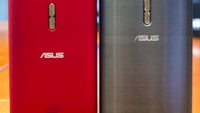 The basic 5" version of the
Zenfone 2
will start you off at the equivalent of just $158 without any subsidies, at least on the Asus home turf of Taiwan, while on Amazon it arrives with a $219 stamp. That's still a great price for the entry level Zenfone 2, but all gazes are upon the decked-out 4 GB RAM model with the 5.5" 1080p display, and 32/64 GB of storage out of the box.
This one costs just 8990 NT$, which returns about USD 285 - a pretty stellar tag for such a beast. Granted, when the Zenfone 2 commenced its global rollout, the pricing went higher the further it goes to the western markets, and now the 4 GB model popped up on the mother of all retailers - Amazon.
How much in USD? It will cost you $395 with about twelve bucks extra for shipping from the UK. As a reminder, this is a phone with a 5.5" 1080p display, the whopping 4 GB of RAM, 32 GB of storage, 13 MP camera on the back, and a generous 3000 mAh battery - quite the deal for a sub-$400 tag without carrier subsidies, what do you think? Oh, the camera on the back is nothing to sniff at, either, as
a photo comparison with the Galaxy S6
recently confirmed.