Galaxy S6 vs Asus Zenfone 2 camera comparison: $600 flagship against a $300 midranger
48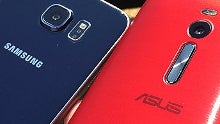 From the new lens and the whopping f/1.9 aperture for the rear camera, to the added optical image stabilization, and the improved wide-angle ratio of the fresh 5 MP front camera, there are plenty of new features to go around in the new
Galaxy S6
and
S6 edge
camera module.
At first look, it carries the same resolution as the snapper in the
Galaxy S5
, so what's so different about it, right? Well, resolution is only a part of it, and Samsung has upgraded the both the rear and front camera units of its new flagships in very meaningful ways, registering them for the smartphone camera top marathon. Just look at Samsung's own description: "
Quick Launch, Tracking AF, Auto Real-time HDR(Front & Rear) , F1.9, Low Light Video(Front & Rear), High Clear Zoom, IR Detect White Balance, Virtual Shot, Slow Motion, Fast Motion, Pro Mode, Selective Focus.
" Whew, let the last one close the door.
Indeed, we found
Samsung's new flagship camera to be a great all-around performer in our review
, but how many times better is it from the camera of the sub-$300
Asus Zenfone 2
. Well, a Taiwanese photog has taken to the streets, and is answering that question with the barrage of photos below. Overall, it seems that the snapper on the S6 isn't many times better than the 13 MP shooter of the Zenfone 2, despite the price tag difference, and the "only" f/2.0 aperture of the Asus phone.
Not only that, but the Zenfone 2's
PixelMaster
technology does a better job at credible color representation than the warmish, slightly oversaturated colors that come out of the S6. Samsung's finest, however, resolves much more detail, and fares better in low-light, though the Zenfone 2 is no slouch then, either. Have a look for yourself, and tell us what you think about this $600 phone vs $300 phone camera comparison. Be patient, as these are the full-size photos, with the Galaxy S6 first (the wider 16:9 photos), and the Asus Zenfone 2 second (the regular 4:3 frames).