Asus ZenFone 3 Zoom hands-on
6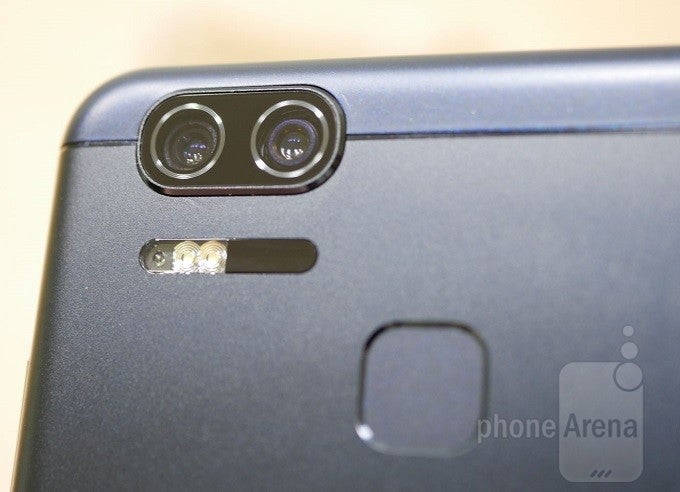 Asus had a big week at CES this year. The company introduced not one, but two impressive smartphones during its press event. Among the presented devices was the highly anticipated
ZenFone AR
, the first smartphone that has both Google's Tango, and Daydream compatibility built in.
The other device Asus announced was the
ZenFone 3 Zoom
, a smartphone that is "built for photography." With three impressively spec-ed cameras on board, the ZenFone 3 Zoom certainly appears ready to live up to its name. On top of that, this new device is more than just pretty cameras.
Design
In an era where the form factor of any given smartphone is a candy-bar style, it is challenging to make distinctions in styling. There is no avoiding the obvious similarity to the iPhone 7 Plus, but Asus is has made it no secret it is aiming squarely at the
iPhone 7 Plus
when it comes to camera features.
Facing the phone, the chin houses three capacitive buttons, and the top has the front-facing camera and ear piece – nothing out of the ordinary. The bezels on the side are neither the thinnest, nor biggest we have seen. The rounded edges and flat back (save for a small camera hump) make the ZenFone 3 Zoom easy to handle.
Display
The 5.5-inch full-HD AMOLED panel may put the ZenFone 3 Zoom in the mid-range category for some users, but again, it is up to the task. With 404 pixels-per-inch, there is plenty of resolution to enjoy viewing or taking photos, and watching videos.
Cameras
The cameras are part of the ZenFone 3 Zoom's primary feature set. Starting with the front-facing camera, Asus offers up a 13-megapixel Sony IMX214 sensor with an f/2.0 aperture. Asus claims its SuperPixel technology makes the camera better than two-times more sensitive to light than competing devices, perfect for the low-light selfie.
The main cameras on the back bring an added dimension to the photo game. With laser-assisted autofocus on-hand as well as "dual pixel PDAF" (which means 100% of the pixels are used in focusing), the main 12-megapixel Sony IMX362 sensor has an f/1.7 aperture and also has Asus' SuperPixel technology. Asus claims this camera has better than two-and-a-half times better light sensitivity than the iPhone 7 Plus.
Then there is the zoom camera. It is a 12-megapixel sensor with a 59mm focal length and 12-times total zoom. The optical zoom is 2.3x, and the reaming zoom capability is digital. With a steady enough hand, you can see across vast distances – it is pretty impressive.
The camera interface allows for all manner of manual controls, from shutter speed, to white-balance settings. You can also manually select which lens you want to use, and shoot RAW images if desired.
Processor, memory, and battery
The ZenFone 3 Zoom will be available with three storage options, 32GB, 64GB, and 128GB. There is 4GB of RAM on board, and the dual-SIM tray will accommodate a microSD card.
Running the show inside is a 2GHz octa-core, Qualcomm Snapdragon 625 CPU with an Adreno 506 GPU. There was no indication during our initial hands-on time that the ZenFone 3 Zoom was having any trouble managing our inputs.
For a device that is only 8mm thick, Asus managed to fit a 5,000mAh battery inside the ZenFone 3 Zoom. Coupled with a full-HD screen and energy efficient CPU, Asus says you will get up to 42 days standby time, 6.4 hours of 4K video recording, and 8.5 hours of social media live streaming. Those are impressive numbers by any smartphone standard.
Interface and functionality
Android 6 Marshmallow has the thick, but smooth operating Asus Zen 3.0 user-interface on board. Like any other Android-powered device, there are features galore, though many on the ZenFone 3 Zoom are camera-centric. Zen 3.0 is not an overly complex UI, it is easy to navigate, though the camera interface has a lot of depth and breadth to it when you dig into the manual features.
Pricing, release date, and expectations
Asus did not release any pricing details, but it did say the ZenFone 3 Zoom will be available for purchase in February. The company did not officially reveal which markets would be getting the ZenFone 3 Zoom, but the company's web page shows specifications for a "US version" in its network standards, so that bodes well to stateside availability.
As we touch on the tenth anniversary of the introduction of the iPhone, history has shown us that virtually all attempts to take on Apple head-on have not resulted in the iPhone giving an inch. That is not to say the ZenFone 3 Zoom is destined to not leave a mark. The ZenFone 3 Zoom addresses several real needs in the marketplace, the desire for good cameras, competent hardware, and good battery life. Indeed, that latter feature may prove to be the best selling point of all.