Asus ZenFone 2 - where to buy the $199 beast in the USA and Canada
30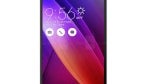 What's a ZenFone 2? Well, it's made by ASUS, and although we're wary of making such statements before we've had a product for testing and review... this thing
already seems like an outrageous bargain
! Basically, you can either get a full-blown, Intel-powered Android smartphone with 16GB of storage and 2GB of RAM for $199 in the USA ($249 in Canada), or double your spending and get a 64GB storage / 4GB RAM device for $299 ($379 in Canada), which we think is absolutely the way to go, unless you're shopping for someone else.
It's not just the bargain bin pricing that makes this phone special, though. Its chipset, the Intel Z3580 Atom chip, is the first to have both the CPU and the baseband made entirely by Intel, which is something all Qualcomm competitors have been struggling with until now. We don't have very high expectations for the Atom SoC's graphics processing grunt, as it has the same GPU as the iPhone 5s, sans Apple's graphics optimizations. But we still think the ZenFone 2 could deliver more than expected. Well, unless it's fundamentally broken in some way or ASUS gives it the "cheap product" treatment and stops updating it in a year.
Still, a $199-$299 device packing cutting-edge technology arguably sounds impressive. Throw in the 5.5-inch 1080p display, the dual-LED flash, OIS camera, and LTE while you're at it, and you have the makings of a cheap flagship.
If you're ready to pounce on the ZenFone 2, you can find it in the following places starting now. Shipping dates are listed within 2 to 4 weeks, which means ASUS is still growing its supply and you'll have to wait a while if you order now.
USA
Canada