Asus VivoWatch launches this month for $149, 10-day battery life and new OS (Kood) included
13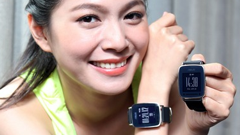 Asus this week unveiled more details about the
VivoWatch
, a new wearable device that was first
showcased in April
. The watch will be available in Taiwan starting May, for around $149, and it's also going to be released in markets like the UK, France, and Germany (the US wasn't mentioned).
As initially reported, the VivoWatch can offer up to 10 days of battery life, and we now know why. While the battery is a 123 mAh one - thus smaller than a typical smartwatch battery - the device runs a new and pretty basic OS developed by Asus and called Kood, which is not as power hungry as Android Wear. Moreover, the VivoWatch is equipped with a 128 x 128 pixels black-and-white touchscreen display, and does not have a proper processor, using a microcontroller instead.
The VivoWatch can't run third-party apps, so it's not exactly a smartwatch. However, it does offer various health-related features, including heart rate sensor, a LED indicator that lets you know when you're "effectively burning calories", and something that Asus is calling Happiness Index: "an easy-to-understand rating of overall wellbeing based on your amount of exercise and sleep quality." The device is dust- and water-resistant, and can connect via Bluetooth to your PC or smartphone (Android handsets and iPhones are both supported).
So, is the Asus VivoWatch something that you'd buy and wear?
sources:
Asus
,
FocusTaiwan
,
ePrice