Asus ROG Phone Unboxing
10
Asus' ROG Phone is officially available and has landed at our doorstep begging to be unboxed. The ROG promises a different take and a different look for mobile gaming, so we swiftly opened the box on this one to see what's inside.
In the box:
• Asus ROG Phone
• Aeroactive Cooler accessory
• USB-C cable and wall adapter
• Replacement rubber plugs for proprietary port
The Unboxing
The trapezoidal box in which the ROG Phone is packaged is already pretty unique. Pulling back the flap, the box unfolds displaying compartments for your ROG Phone and its included accessories. A USB-C charger is requisite fare, but the Aeroactive cooling fan is a neat addition to help keep your gaming sessions long and cool.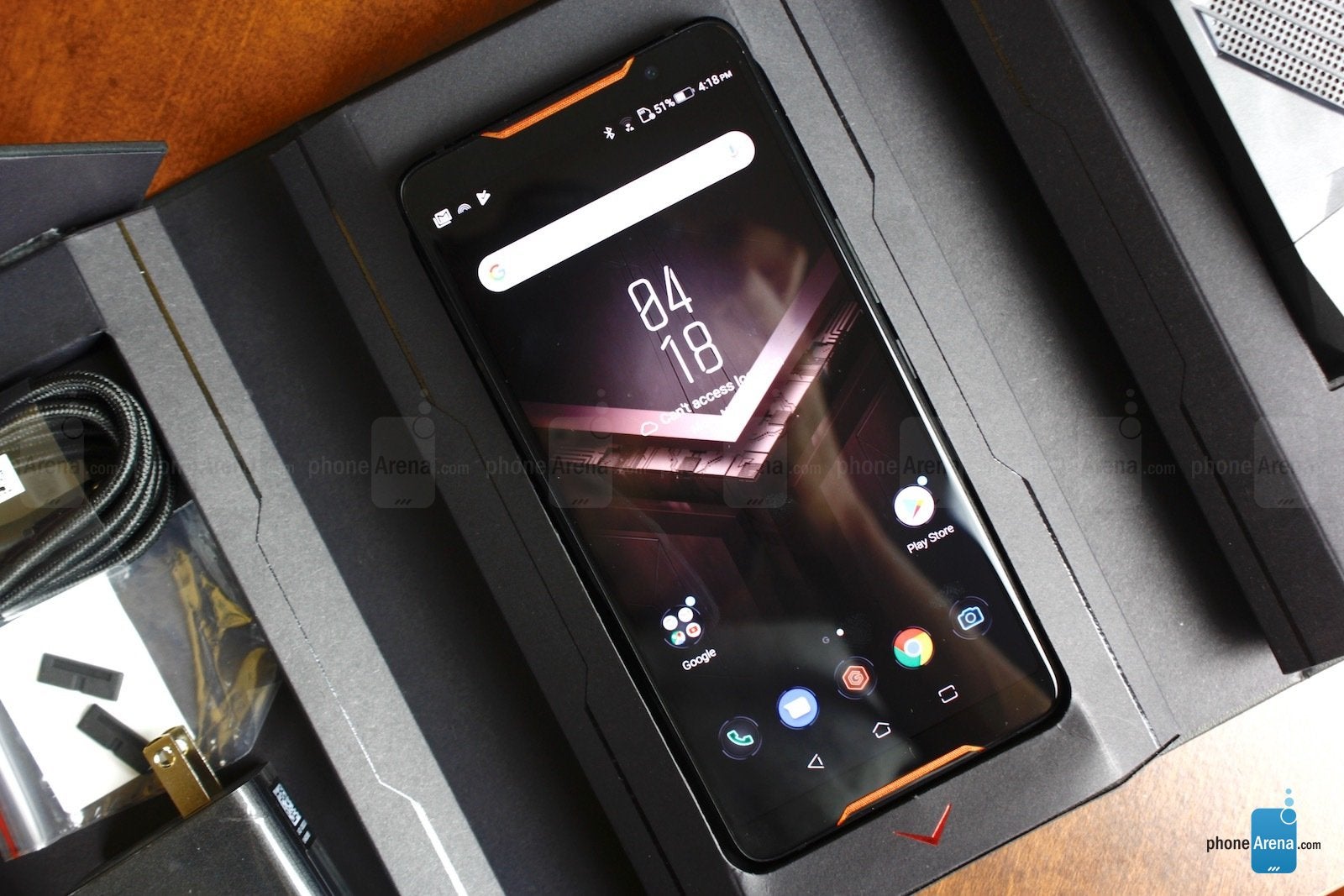 Picking up the phone, you'll first notice the weight of the ROG Phone; the glass-and-metal construction is a bit weighty, but nothing too overpowering. Even from just the simple façade and its reddish, copper-accented speaker grilles this phone strikes you as a flashy, serious device. Turning it around you'll find glass at the back with a circuit board graphic design underneath. Dual cameras, a skinny fingerprint sensor, copper cooling vents, and a light-up ROG logo build out quite the unique look that is well-balanced, yet reminiscent of a gaming console.

The Unlocking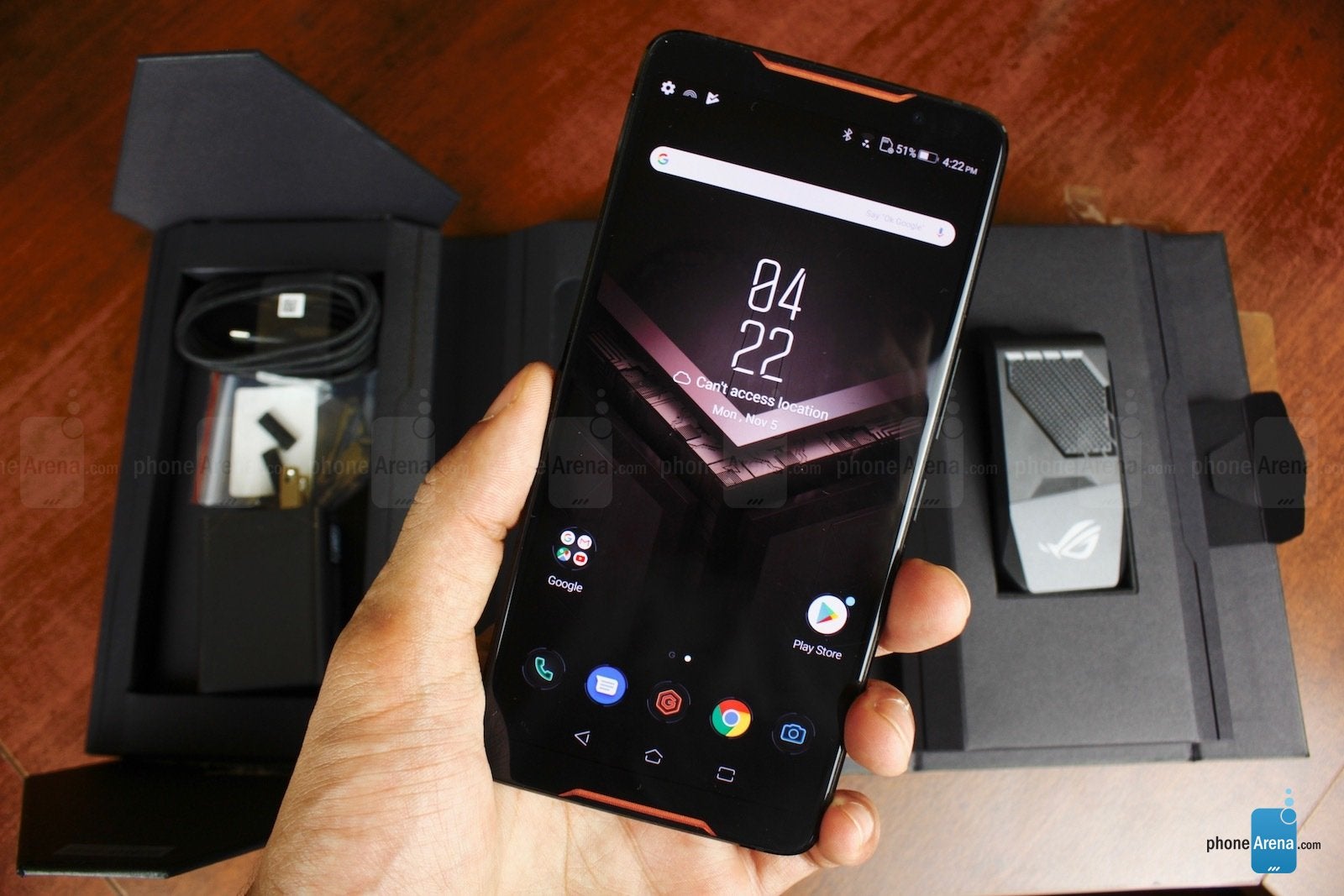 Booting up the ROG Phone, your greeted by a loud boot noise and vibration at the logo screen, and into the ROG phone you go. Here you'll find ROG UI – not to be confused with Asus' ZenUI – which offers an orange, red, and black color scheme, a number of software additions, and some pretty cool iconography. There's a lot to unpack here which should serve to make gaming easier, more fun, and longer-lasting, but we'll have to dive deeper come review time to properly assess Asus' efficacy on these fronts.
The Hardware
Asus also made some intriguing choices with the hardware on the ROG Phone. Aside from the included Aeroactive cooler – a touch we love, by the way – internally, the company uses a tweaked version of the Snapdragon 845 which is capable of reaching a 2.96Ghz frequency versus the 845's typical 2.8Ghz max. Pair this with 8 gigs of RAM, and Asus' GameCool vapor chamber cooling system, and you should have some smooth, cool gaming on the ROG.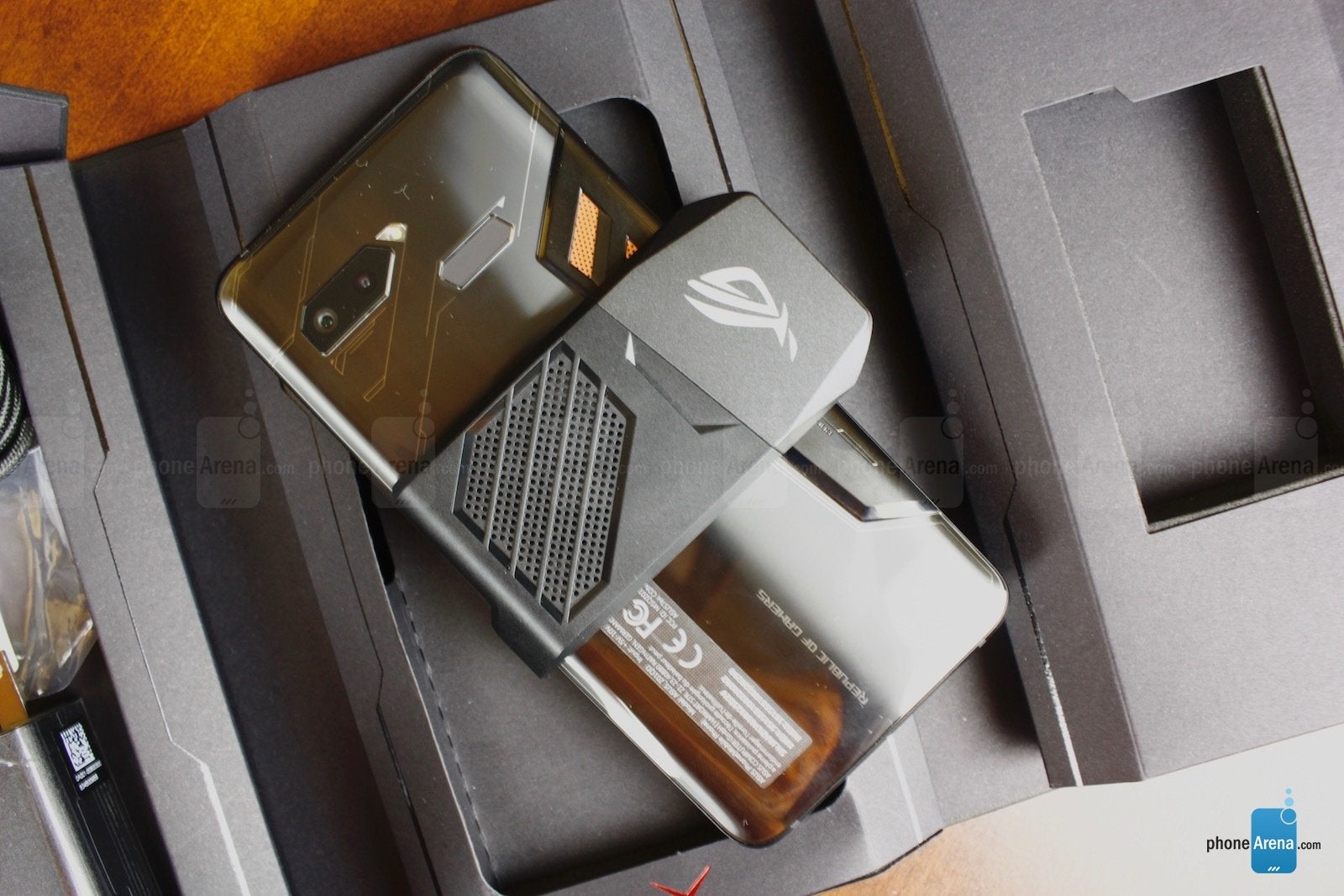 Speaking of smooth, the ROG Phone's display clocks a 90Hz refresh rate, which should also make games feel just a bit silkier. The inclusion of squeezable sides enables AirTriggers, which adds two mappable, pressure-sensitive triggers to the edge of the phone during gameplay.
The ROG comes in either 128 GB or 512 GB storage configurations – solid capacities for a phone meant to hold large mobile games.
A number of accessories have been built for the ROG Phone, as well. These include two desktop docking stations, a gamepad controller, a super-low latency wireless dock for streaming to a larger screen, and a dual screen clamshell accessory that can give you Nintendo DS-like gameplay.
The Expectations
The ROG Phone has another tough competitor in the Razer Phone 2, also released this month, but Asus hasn't appeared to slack off when it comes to additional hardware or software. Selling for $899 for the 128 GB variant and $1099 for the 512, will the ROG Phone put its money where its mouth is for gamers?