Asus ROG Phone 2 is a ridiculously powerful Android phone with Snapdragon 855 Plus and air cooling [hands-on]
27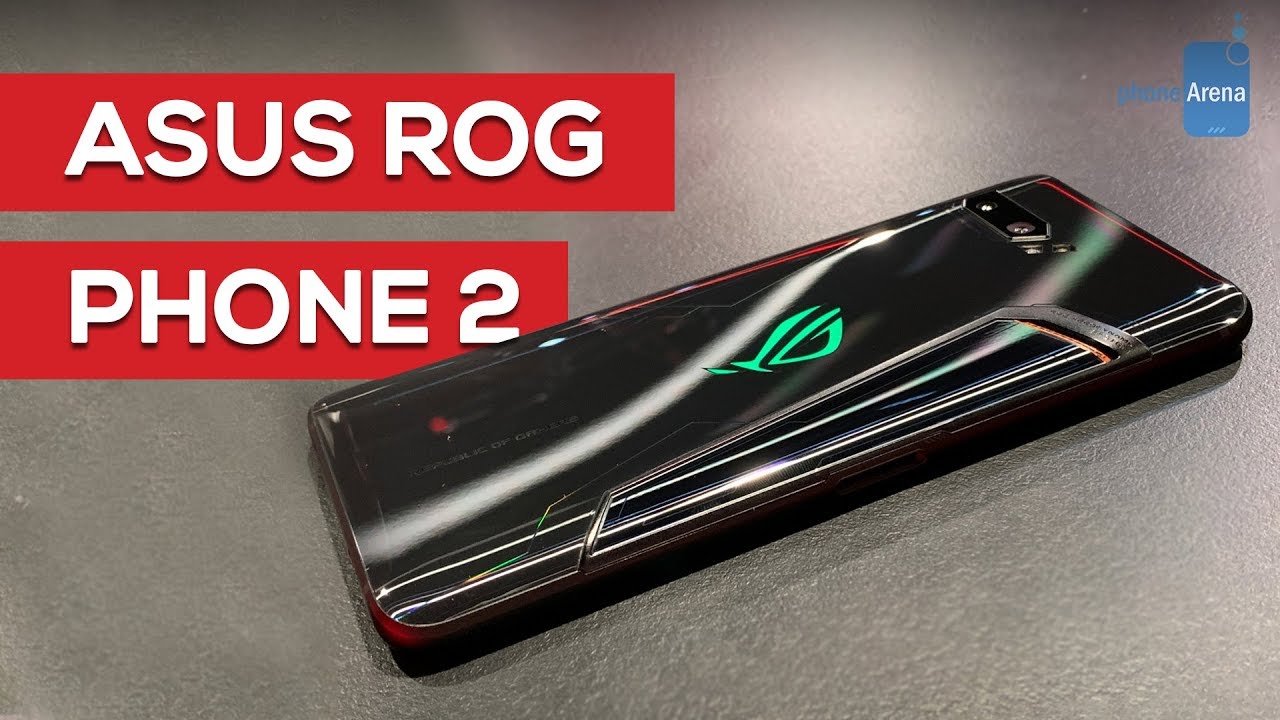 Asus today announced the ROG Phone 2 - its second-generation gaming phone with over-the-top aesthetics and impressively awesome hardware. For the uninitiated, ROG stands for 'Republic of Gamers', which is Asus' gaming brand, typically plastered on its gaming laptops and accessories. The ROG Phone 2 is being unveiled in China today, in collaboration with local entertainment giant Tencent, but it's also scheduled to launch internationally on September 4.
Last year's original ROG Phone was a crazy, ridiculous phone, and gamers will (probably) be happy to know that things aren't getting more normal this year. The ROG Phone 2 sticks with the same visual style - a very asymmetrical, shard-like aesthetic that seems very random, but is said to serve a function through the heat exhaust vent that you see on the rear, lovingly dubbed "ROG Aerodynamic System".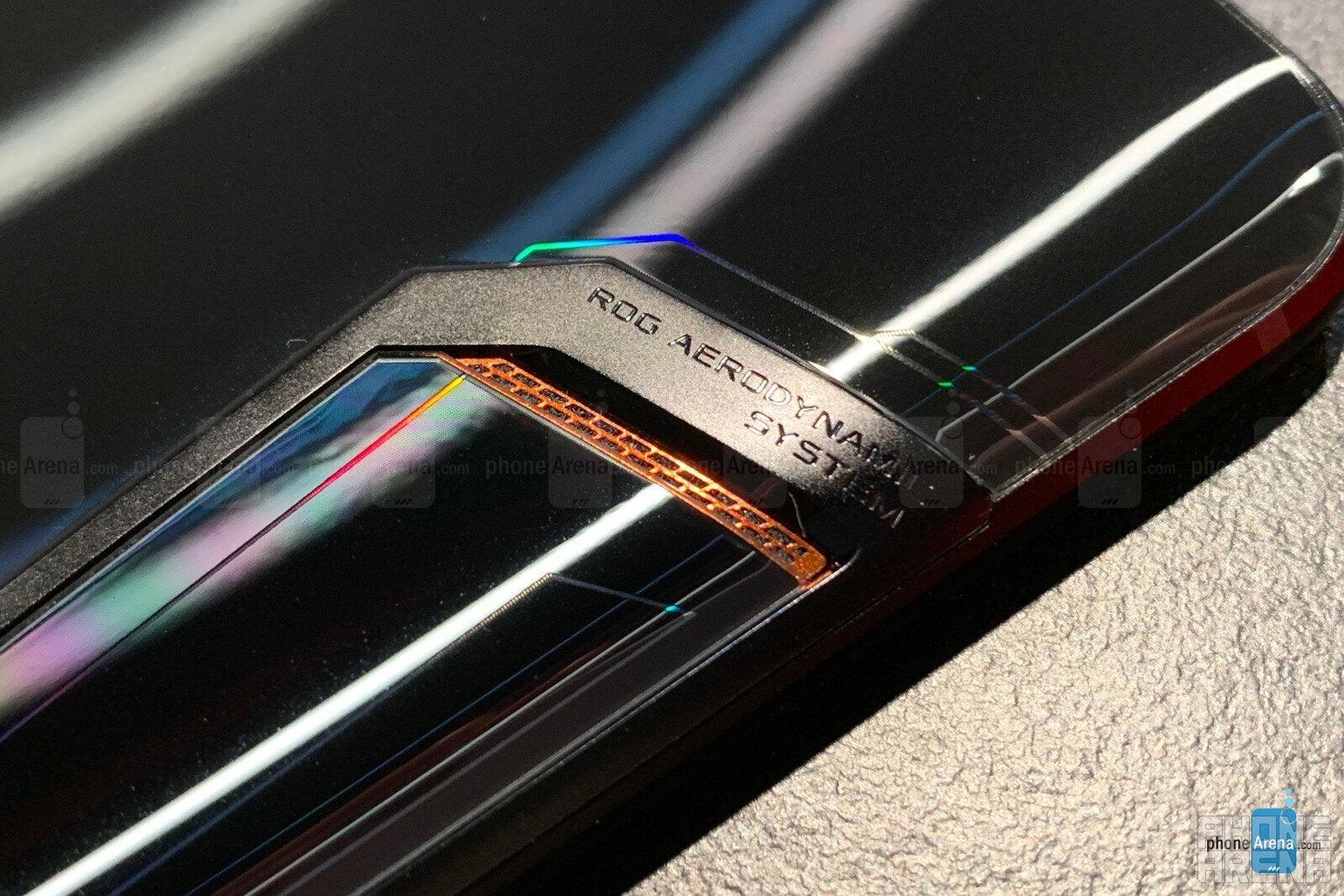 The cooling vent on the back of the ROG Phone 2
Asus is going for a gaming PC type of approach where it tries to push the hardware to its very limits, by working on the heat management solutions found on the phone's inside and outside.
Benefiting from this advanced heat management system is the brand new Snapdragon 855 Plus - a more extreme version of Qualcomm's current flagship chipset. The ROG Phone 2 is the first smartphone launching with Snapdragon 855 Plus. The resulting performance gains actually aren't huge: just 4% for the CPU and 15% for the GPU. However, as this is a purely gaming phone, the 15% extra power in the graphics department will surely be appreciated.
According to preliminary benchmarks data, the Asus ROG Phone 2 manages to edge out other current Android flagships, such as the OnePlus 7 Pro and the Samsung Galaxy S10+.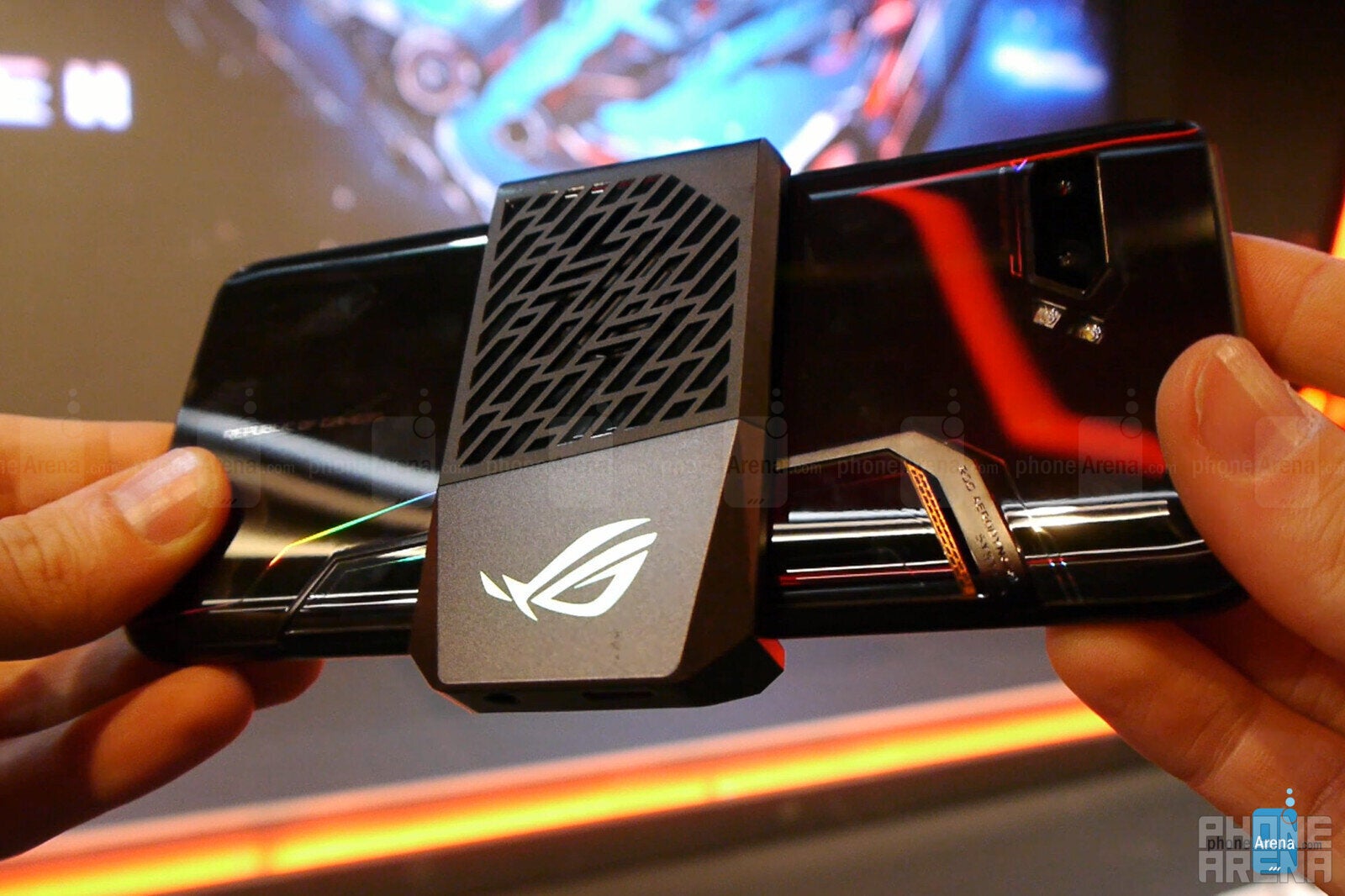 The AeroActive Cooler 2 is an optional air cooler.
The cool thing is, if you happen to be really serious about mobile gaming (which you are, if you're buying the ROG Phone), you can also pop the optional AeroActive Cooler 2 (fan) on the ROG Phone 2 for some active air cooling, enabling even more extreme performance. This year's Cooler 2 has been improved to be more silent and less hot on the surface. Most importantly, though, we still get the rad RGB ROG logo so that everyone around us would know how badass we are.
6.6" AMOLED display with 120 Hz and super low touch latency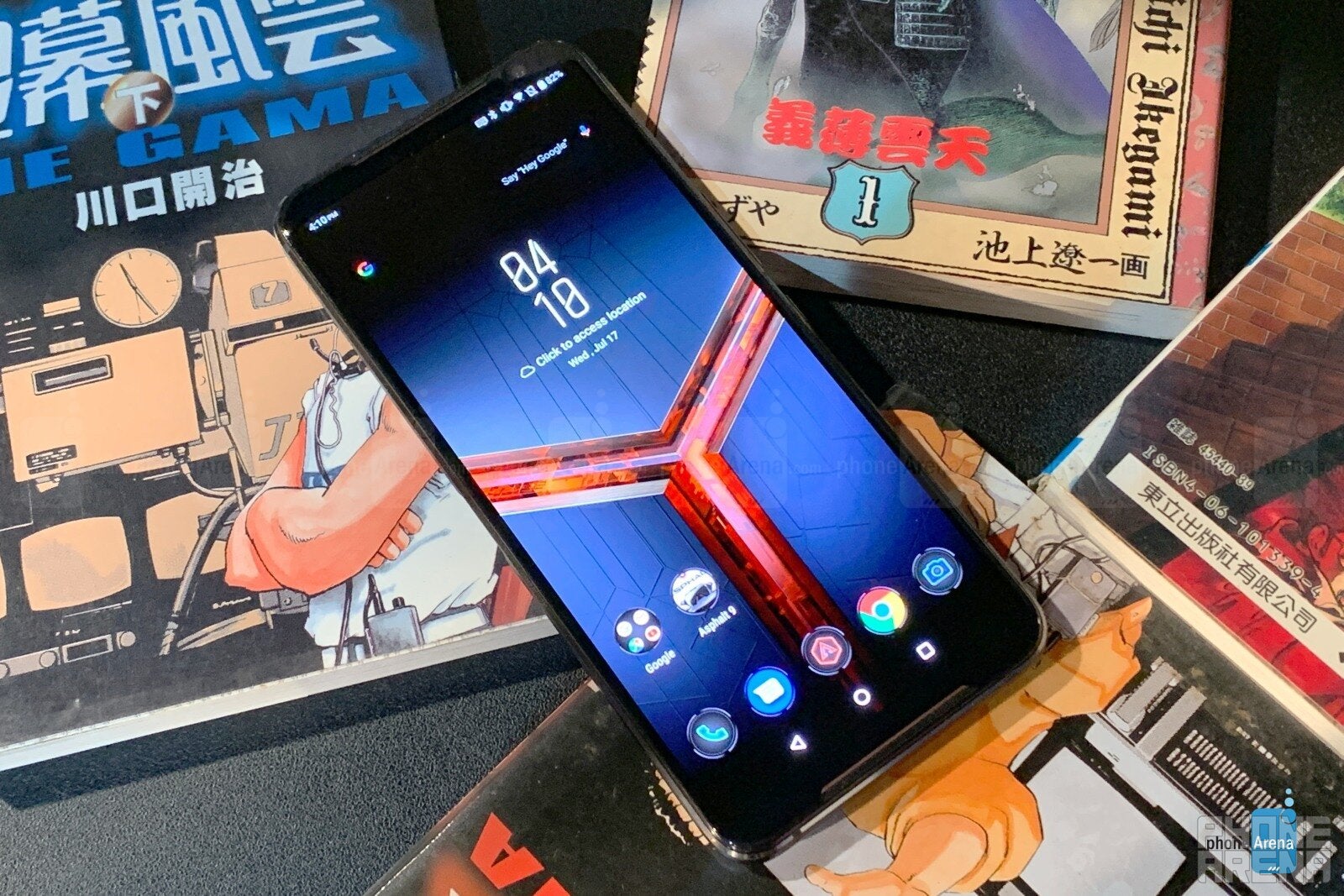 Asus is also making a big deal out of the display on the ROG Phone 2. Perhaps not surprisingly, the diagonal has been increased! Asus argues the new, 6.6" display allows for the maximum possible screen size without making the phone too wide and uncomfortable. We've heard that same story many times throughout the years, so we wouldn't be all that shocked if the screen happens to grow even further next year.
Anyway, this is actually a magnificent display. It is an AMOLED panel, which Asus has chosen for its quick, 1ms response time, and it also has a 120 Hz refresh rate, just like the Razer Phone 2. These characteristics give it a very clean and fast image response that is ideal for gaming. According to the manufacturer, it could even give you a slight edge against your competitors, most of whom will be rocking their standard 60 Hz screens.
That's all good and geeky, but what we find particularly promising is that all of these panels will be factory-calibrated for superb image accuracy.
A humongous, 6000 mAh battery

Here's a question for you: if you play 3D games all day on your phone, what's the one biggest problem you're going to face? If you answered battery life... well, then you must be really smart! This is the correct answer, and Asus knows it, which is why it's managed to stuff a humongous, 6000 mAh juice pack inside the ROG Phone 2. Not 4000, not 5000... 6000 mAh! So, how is that going to keep up with a gamer's demanding usage pattern?
Well, we have some numbers for you, but those assume your ROG Phone 2's display is running at 60 Hz (120 Hz is going to drain more battery). For example, with a full battery, you'll be able to play a cool 7.5 hours of Arena of Valor, or 7.1 hours of PUBG Mobile non-stop, and those are two games that definitely know how to get your phone hot and running at maximum load. In comparison, Asus states the OnePlus 7 Pro can give you just 4.8 hours of AoV, and 4.7 hours of PUBG. Finally, the Galaxy S10+ is rated at 5.5 hours of AoV and 5.1 hours of PUBG. Obviously, a 6K mAh battery is going to give you some crazy endurance, and you know what's even cooler? Its overall lifespan should be longer than that of a smaller battery. Provided you do the same things on the ROG Phone 2 as on any other phone, that would mean you'll be doing fewer charge cycles with the ROG for the same amount of time, meaning less overall wear.
AirTrigger 2 buttons are more responsive and powerful
Remember the innovative AirTrigger shoulder buttons of the first ROG Phone? They are back! But in an improved form. Now, you'll not only be tapping mindlessly on those sexy shoulder buttons from the future. Instead, they'll also recognize a "constant push" position where you can just rest your fingers on them to have the same action repeat again and again (for example, executing an attack), and they'll also be recognizing swipes. Whether or not games will take advantage of this will depend on the developers.

Asus says one of the more common complaints among players was their perceived latency, which the company says was just the vibration latency, while the buttons actually sent their signals on time. Anyway, Asus "worked hard" to fix that, bringing AirTrigger 2 vibration latency down from 63 ms to 20 ms. Hooray for low-latency AirTriggers!
Speaking of vibration, Asus has actually stuffed 2 vibration motors on the ROG Phone 2, allowing for more precise and varying tactile reactions. Do you know what else comes in a pair in the new ROG? That's right - the front-facing stereo speakers, which are now improved and up to 2.5 times louder than before.

There's a camera, too!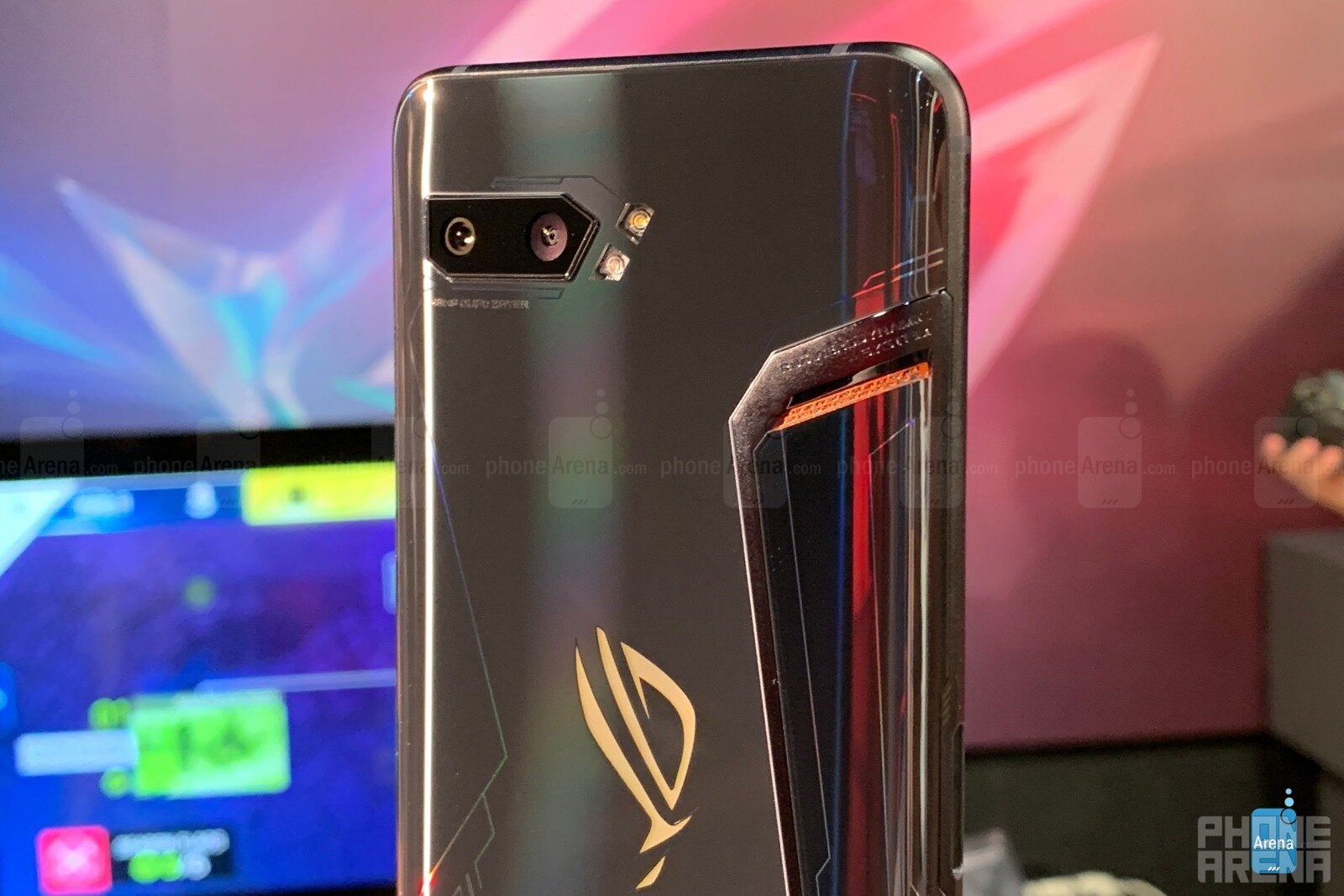 With all that gaming bonanza, it's almost amazing how Asus didn't forget to put a camera on the ROG Phone 2. Actually, it's the ZenFone 6 dual-camera system, consisting of a 48 MP main shooter and a 13 MP secondary one for ultra-wide pictures.
In our review of the ZenFone 6, we found the camera to be a bit of a mixed bag. While the hardware itself seemed perfectly up to the task, some scenarios managed to "confuse" the algorithms and cause flat, artificial shots. It's possible that Asus has made some improvements to the software part of the package this time, but we won't know for sure until we can properly put the camera through its paces. Until then, here are some sample shots taken with the ROG Phone 2 in challenging conditions.
ROG Phone 2 price and release date
Today's launch concerns only the China market, but we can build some expectations regarding the worldwide price of the device based on its predecessor. The original ROG Phone was an expensive phone: it cost $899 for 128 GB, and $1099 for the 512 GB variant. That is a full on flagship price, which is perfectly understandable, considering all the top-notch hardware Asus has running in this thing. We can't be sure yet if the ROG Phone 2 price will be exactly the same, but it'll probably remain in this ballpark.

As mentioned, Asus and Tencent are busy with their blockbuster launch in China, but international gamers shouldn't have to wait long before they can put their hands on the new ROG. Asus has stated its plans to release the ROG Phone 2 in other markets such as the US and Europe on September 4.
Recommended Stories