As doomsday looms closer for HTC, billionaire co-founder takes over to turn the tide
64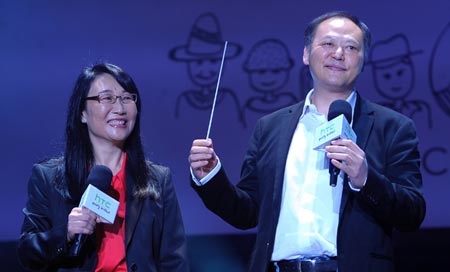 HTC's stock has tanked to what looks like the absolute bottom: the company trades close to the 120-something Taiwan dollars rock bottom it hit in October, and analysts across the board don't see any light at the end of the tunnel.
As doomsday seems to loom closer for HTC, though, one woman has stepped up to weather the storm.
We're speaking about Cher Wang, of course. The daughter of a Taiwanese petrochemical mogul, 55-year old Wang has always held a commanding position at HTC, but only recently has she started taking over the steering wheel. Once the richest woman in Taiwan, Wang has comparatively modest fortunes now, after HTC's prime. As of chief executive Peter Chou, the public face of HTC, he will not be stepping down after this change, nor is he losing his formal title in the company, but in fact, his responsibilities are now limited to making great products, not so much on the operations daily grind.
"I think we are on the right track,"
Chou said.
"Now Cher is 100 percent focused on marketing, customer service, so I don't have to worry. I have a lot more time driving the product, quality, supply."

And it is indeed marketing, or lack thereof, that most analysts blame HTC's downfall on. The company has received mostly positive reviews for its last year's HTC One, and this year's successor, the One (M8) is also universally praised for its outstanding design (many, us included, are disappointed by the camera, but overall, it's a great phone). However, HTC just could not get the sales it needs - within the first two months of availability of its flagships, it sold just 5 million units, while Samsung with the Galaxy S4 scored sales of 20 million in the same period.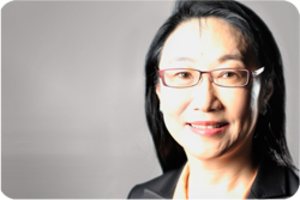 Cher Wang has taken over HTC's marketing
That's where Cher Wang comes in.
"We just have to communicate well with our customers," Wang said. "I believe if we can communicate better, we will do better."
Not much more in terms of change is needed, according to Wang, who got her Master's degree in economics at University of California, Berkeley.
With first quarter sales slumping 23% from the previous year, one thing that everyone clearly sees right now is a mountain for HTC to climb ahead. We would not write it off that easily, though. With market cap of $4.5 billion and a strong presence on the hugely important US market, HTC's volatile stock could also turn out to be a dream come true for investors willing to take the risk.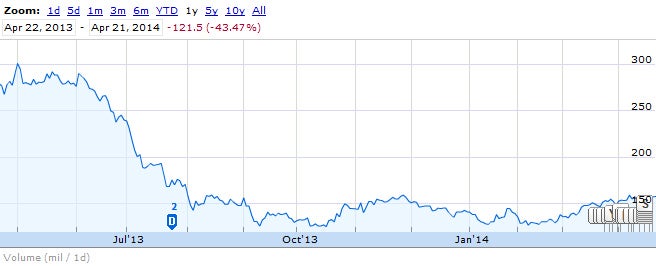 HTC's stock has dropped to bottom low levels on the Taipei exchange
source:
Bloomberg