As court drama heats up, Apple remains Samsung's biggest client; companies closely tied on components
28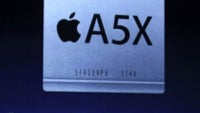 Apple might be vigorously suing Samsung over copying the iPhone, but at the same time the companies have grown to be weirdly hugely dependent on each other.
Apple is Samsung's biggest client
, accounting for 8.8% of Samsung's revenue, according to Bloomberg. On the other hand, Apple needs a proven supplier like Samsung to meet the huge demand for its devices.
To further put this into context, Apple is estimated to spend $7.5 billion on Samsung chips in 2012, a jump of nearly 60% over last year, according to Gartner.
Apple and Samsung have signed a deal under which
Samsung is the sole provider of Apple's A chips
(like the A5 and A5X in the iPhone and iPad). The A series of chips alone might cost Apple $2.1 billion in 2012. And about 20% of the iPhone's internals come from Samsung, a nice illustration of the interdependence of the two.
In Samsung's hierarchy of clients, Apple's 8.8% look hugely important in a fragmented portfolio where the second-biggest client is Hewlett-Packard accounting for only 3.2% of the revenue of the Korean company.
"As much as these companies go head to head, there's a definite intertwining there that makes it a real ugly divorce if it were to take place,"
IHS market researcher Len Jelinek said.
"Apple cannot, under any circumstances, be caught in a capacity-crunch situation."


It's clear that with so much momentum for both companies, a capacity shortage at Apple would quickly be used by Samsung to grow its share.
Samsung and Apple are the two most profitable companies in the phone market, an industry estimated at $320.4 billion in 2011.
source:
Bloomberg
Recommended Stories