As Pokemon Go launches in new countries, police starts issuing safety warnings
2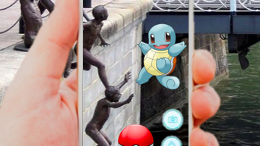 Over the weekend, the
hugely popular Pokémon Go game
was released in 15 new countries, all of them in Asia or Oceania. Singapore is one of the new regions where fans can now enjoy playing Pokémon Go, but the police there is certainly concerned about the game's arrival.
The Singapore Police Force issued a safety warning (see the source link below) urging Pokémon Go players to always put personal safety ahead of the desire to
catch 'em all
. Players are advised to "play in pairs or as a group" (obviously a safer alternative to playing alone), watch where they're walking, and never reveal personal information. Moreover, no Pokémon Go fan should play while driving or riding any vehicle, or trespass onto private or restricted property in search of monsters. The Singapore police also notes that "there could be potential criminals who may seek the opportunity to lure victims to their fake Pokéstops".
The Pokemon Go game itself includes safety warnings before you start playing, but it's obviously a good thing that relevant authorities are also reminding people that
this is a potentially dangerous game
.
source:
Singapore Police Force
(Facebook) via
ZDNet