Are you going to buy the Google Nexus S?
16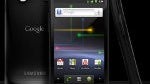 December 16, 2010 is quite a big day for all Android lovers in the US, because this is the launch date of the long-awaited
Google Nexus S
. You are, of course, very informed about this handset thanks to our
Nexus S round-up
, our coverage on its
introduction
and all the rumours we reported to you before it was officially unveiled. According to some of our readers, however, the handset didn't live up to their expectations and that's why
comments
of disappointment were expressed, since the Nexus S doesn't offer something yet unseen (for example, a dual-core processor), but rather it packs all the goodies that we know and love with the Samsung Galaxy S along with some new perks like the Contour Display and an NFC chip. Nevertheless, since one of the most anticipated phones of the year is now here, we feel the time is right to ask you...