Are you getting the new iPad?
32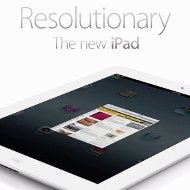 New year,
new iPad
- this one with
unseen display resolution
, faster graphics chip, better camera, Siri dictation and the obligatory
4G LTE connectivity
. Yet it is the market that will ultimately decide whether it is a worthy upgrade, so we wanted to ask you, dear readers, whether you plan to get the third edition of the world's most popular tablet.
We know some of you are already struggling with the overloaded pre-order page, some will take the "wait and see" approach until the first reviews are out, some consider the
iPad 2
good enough for them and waited for the expected $100 price drop, and some don't really care about Apple's tablets, or slates in general.
Tell us in the poll below if you plan to get the new iPad or you have something else planned, and comment your decisions in the discussion thread.