Are Intel and Apple working on a 1.5-inch iOS smart watch?
27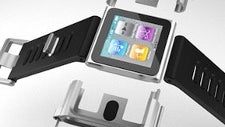 We've seen Apple incorporate the low-energy Bluetooth 4.0 profile in all of its products in the last two years now, but with little practical use. There are virtually no accessories to make use of that, but this latest rumor suggests Apple is prepping something big.
In a collaboration with Intel (strange as it may seem), Apple is rumored to bring a 1.5-inch iOS-based smartwatch to market. The 1.5-inch display would be of the OLED kind with ITO (indium tin oxide) coated glass.
What's more, the Apple smartwatch might come as early as in the first half of 2013.
Interestingly, that would align well with Apple's history of new product launches. It's been nearly three years since the company launched the iPad, and around six since the launch of the iPhone. It seems a good time for the company to open a new page with a brand new class of device. But that is just speculation and rumors, so do take it with a grain of salt.
Interestingly, some analysts like Piper Jaffray's Gene Munster agree that an iOS smartwatch is a possibility. On Kickstarter, projects like the Pebble smartwatch have also gained tremendous traction.
Ron Mertens of OLED-Info also notes that this time, the rumor for an iOS smartwatch looks more credible. Mertens expects the smartwatch to use a PMOLED (Passive Matrix OLED) display, and thus avoid the challenges of display manufacturing.
The only thing that puzzles us is the collaboration with Intel. Why would Apple partner with Chipzilla when ARM is definitely the more power-efficient choice for the moment? When it comes to the price, Sony launched a similar LiveView clipping device that sold for $109 at launch. Now, it's down to around $20, but we expect Apple to shoot for more than $100 at launch, if of course there is any truth in that rumor. Let us know your thoughts about this and the possibility of an Apple smartwatch right below.
source:
Tech 163
,
Oled-info
via
Mobile Geeks
,
Business Insider