Apple's stock responds to news with big jump; stock makes new all-time high
20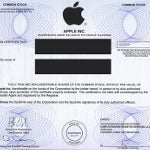 Apple has been
all over the Dow Jones wire
on Monday morning thanks to the release of some news that is moving the stock higher. First, it was announced that despite the lack of sell-outs at mortar and brick stores, Apple set a
company record for sales over the weekend
with the launch of the new Apple iPad. While no precise figure was released, the news would obviously be seen as bullish by investors.
start paying a quarterly dividend of $2.65
a share to stockholders starting with the July quarter, well you can imagine all of the short-covering and fresh buying of the equity going on. But there is even more. The Cupertino-based tech titan also announced it would buyback $10 billion worth of its outstanding stock. This accomplishes a few things. First, it reduces the number of shares outstanding which raised the company's earnings per share. That in turn lowers the company's P/E (Price to Earnings) ratio which is a metric used by fundamental stock investors to determine if a stock is cheap or dear. Apple's current P/E of 17 is cheap compared to historical values of market leaders, but is twice as high as the P/E of other companies in the same business. In case you were wondering, Google has a P/E of 21.
new all-time high of $606 a share
. That makes the company the most valuable on earth. We still remember back in the Sculley days when the stock traded at $12. It has been quite a ride for Apple investors, but in the history of the stock market, no stock ever climbed forever. Back in 1929, RCA was the Apple of its day with an amazing product that helped make the world smaller, but those shares eventually collapsed under the weight of the crash. In 1986, it was Home Shopping Network (HSN) that had an amazing run that ended badly with the stock dropping from a triple digit price to $5.
No equity has ever escaped the law of gravity and eventually, Apple's stock will start heading down. The million dollar question though, is
how high will it get
before that starts to happen?
source:
YahooFinance