Apple's stock hits a split-adjusted record high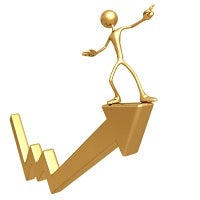 If you were an Apple shareholder of record this past spring, you saw your holdings multiply by seven as the
company underwent a 7:1 stock split
. While not affecting the values or ownership percentages in a shareholders portfolio, nor affecting the market capitalization of Apple, it did increase relative ownership in terms of number of shares significantly.
It also made Apple's stock more accessible to small investors who may have been weary of spending north of $600 for one share of stock.
Following the split, Apple's shares were valued in the low $90-range, and have been slowly gaining value since then. In fact, there really is nowhere for the stock to go other than up. The company has a huge war chest of cash, and it dominates the high-end, high-margin, segment of smartphone and computer sales.
Today, a new record has been reached in Apple's stock, closing at $100.53 per-share. Adjusted for the split, that is the highest the stock has traded, further elevating Apple's position as number one in market capitalization.
What is driving the upward trend? Aside from people just buying the stock, there is a high degree of confidence in where the company is going. RBC Capital Markets circulated an internal communication to institutional investors that indicates a bullish outlook for
iPhone 6
sales, possibly tipping 75 million units before the end of this year. Such sales would demolish last year's record for Apple, where the final quarter of 2013 saw sales of the iPhone 5s and iPhone 5c surpass 50 million units. The possibility of a single iPhone model with a larger display, or possibly two models, one with a 4.7-inch display, the other with a 5.5-inch display, charts new ground for Apple, and thus new excitement.
Apple's acquisition of Beats Electronics
is also seen as a positive move.
Then there is investor activist and agitator, Carl Icahn. He has been trumpeting Apple as "undervalued" and has proceeded to increase his holdings in the company as well. "All my chips still on the table and in fact increased position over the past year," according to his official Twitter account. According to market filings, Icahn owns over 52 million shares of Apple, valued at roughly $5.3 billion.
sources:
Bloomberg
and
Apple Insider