Apple's profit share of the mobile industry on decline, Samsung picks up the slack (chart)
31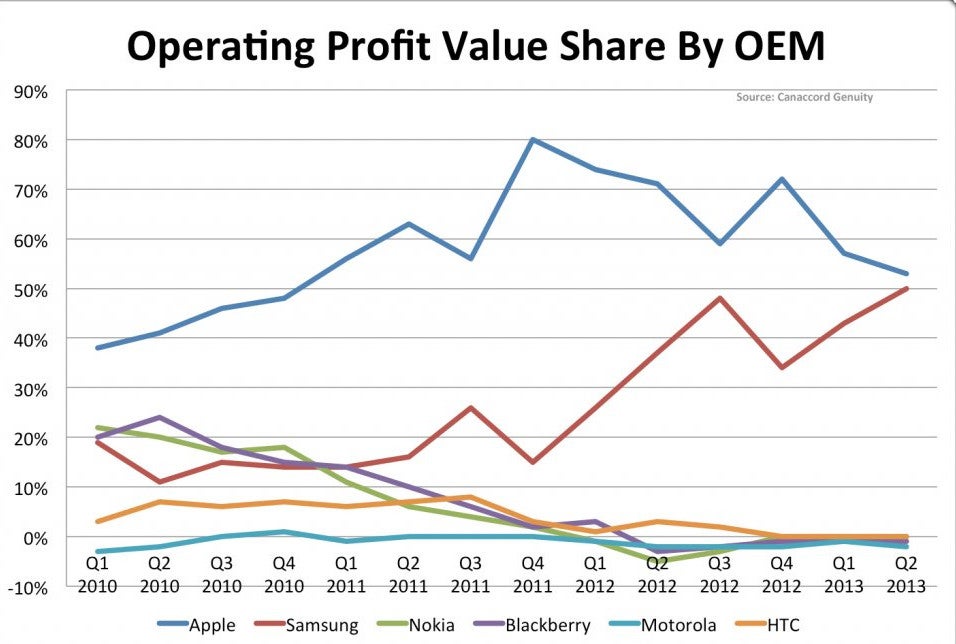 Now that the quarterly results reporting is almost behind us, we are getting the first recaps of how the phone and tablet makers are doing. Canaccord Genuity just came up with a chart that clearly shows how Apple's once dominant share of the smartphone industry profits is slowly eroding, mainly for the sake of Samsung.
Last year, Apple scored 71% of the operating profit in the field, leaving Samsung with 37%. This past quarter, however, Samsung has almost caught up to Apple's low 50s profit share (the total is more than 100%, since a few companies are actually losing money). Seasonality plays a big part in those numbers, of course, as Apple always dips before the introduction of the annual iPhone, whereas Samsung's latest flagship has had a quarter or two headstart to pad the bottomline. This year the gap in profits is record close, though, even for Q2 results.
Where does that leave the rest - well, everyone else is either breaking even, or bleeding cash, like Motorola and BlackBerry, save for a few bright spots with minimum profit, like
LG
and today's
Sony results
, plus the Chinese juggernauts.