Apple's iPhone 6 may beat the Galaxy Note 4 on Samsung's own turf
48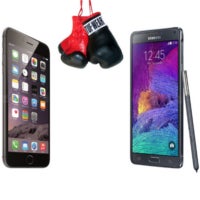 As Apple's
iPhone 6
and
6 Plus
are about to physically land in South Korea this Friday, the country's 3 major mobile carriers started accepting pre-orders for the handsets on the 24th of October. So far, the number of placed orders has reached sky-high numbers in the matter of hours, much like we've already seen happen in other parts of the world.
Carrier KT Corp. reports that combined orders for both models reached 10,000 in the first minute of the pre-order page being up, and got higher than 50,000 by the 30-minute mark. Similarly, another cellular company – LG Uplus – notes 20,000 units ordered in the first 20 minutes. The country's largest mobile network operator – SK Telecom – did not give exact numbers, though it did disclose that it has already burned through two batches of pre-order units and has just launched a third one.
Analysts estimate that about 100,000 units have been ordered by now, which easily tops the pre-orders for the
Galaxy Note 4
, as it had 30,000 sales within 3 days of its. Though, we dare argue that this is not a very fair comparison, since the same three network operators were
only given 10,000 units
of the Note 4 each for pre-order purposes, whereas Apple seems to have granted the carriers quite a bit of units to pre-sell.
Samsung did rush the launch of the Note 4 in South Korea, presumably, exactly because it wanted to beat the larger-screened iPhones to the market and snatch some momentum. Whether Sammy has succeeded is up in the air – it does hold 63% of the market share in Korea, while Apple's was 6%, but the impressive number of iPhone pre-orders on Galaxy turf shows that, by having its screen enlarged, the iPhone is ready to grow in Samsung's home country, and beat its flagships at their own game while at it. It would be interesting to check out the official numbers for units sold, once the dust settles.