Apple's iOS leads in mobile advertising
0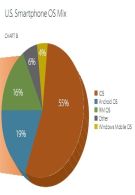 Apple and its ever-popular iOS mobile platform are leading the way as far as mobile ads go, as statistics released from Millennial Media show that they account for about 55% of displayed mobile advertisements.
Coming in a distant second is Google and their widely-adopted Android OS. The acquisitions of Quattro by Apple (as well as their latest creation, iAd), and AdMob by Google are certainly reasons for their large chunk of mobile advertising dominance. While Google may not be as dominant (their numbers are miniscule compared to Apple's totals), 19% of total ads displayed are still a huge chunk.
Nipping at Google's mobile advertising heels is RIM, who at third place captured 16% of the mobile ad field thanks to their BlackBerry smartphones. It should be no surprise that RIM is behind Apple and Google (even though their numbers are solid) in regards to mobile ads given the fact that the iOS App Store and the Android Market have more applications to display them.
BlackBerry's App World is growing however, and that could in fact help them gain ground the next time these numbers are updated and become available to the public. The only problem with that is, Apple's iOS and Google's Android OS are sure to keep on growing as well.
On a side note, Windows Mobile snuck onto the pie graph with their 4% share of displayed mobile ads. Maybe those numbers could improve with the forthcoming release of the new Windows Phone 7 platform. Let's all wait and see how our next game will get interrupted by a mobile ad, shall we?
source:
BerryReview