Apple's head Tim Cook given stock options worth $376 million, the largest CEO package in a decade
5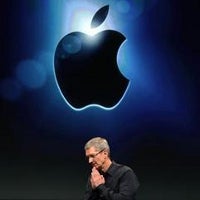 Apple has given
its current CEO Tim Cook
a gigantic retainer package in the form of restricted stock options to vest in 2016 and 2021, says today's proxy filing. The package has been worth north of $376 million based on the August 24 closing price of Apple's shares, when the options were granted.
This way the CEO has every incentive to nurture Apple's stock price for the foreseeable future, and the package may one day be worth over a billion, if
Apple continues to shatter its sales records
all the way to 2016, when half of the options can be converted.
This is the single largest CEO payout in more than a decade, bested in recent memory only by Apple's previous CEO Steve Jobs, who was granted stock options worth more than $600 million at the time they were given to him in 2000. Of course, there was some option backdating scandal that ensued in the following years, but Tim Cook's package shows that Apple really knows how to take care of its own, and keep the exclusive talent that made the company what it is now.