Apple's flagship store in NYC becomes home to "die-in" protest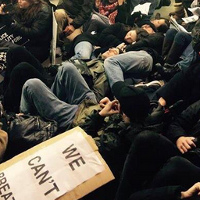 Apple's flagship store in New York City is normally packed this time of the year, as holiday shoppers check out the latest iPhone and iPad models. However, on Friday the store was packed for another reason. A large number of protestors, possibly as many as 100, entered the Fifth Avenue store to stage what was called a "die-in," by lying on the floor of the store.
The protest was held after a New York Grand Jury failed to indict an NYPD cop who used an illegal chokehold to take down a suspect last July. The suspect died just about an hour later. The entire incident was recorded on a smartphone camera.
"The CEO of Apple knows we shut his store down--that means capitalist America is going to take us seriously. We are going to shake up your business and we want to hit you where it hurts."-Zandir Santos, protester
Police decided not to arrest any of the Apple Store protesters, even though their actions prevented much business from being conducted.
Thanks for the tip!
source:
@danyasteele,
@JonVig4NY
via
NYPost