Apple's changing economy: as sales in America and Europe plateau, Asia saves the day
11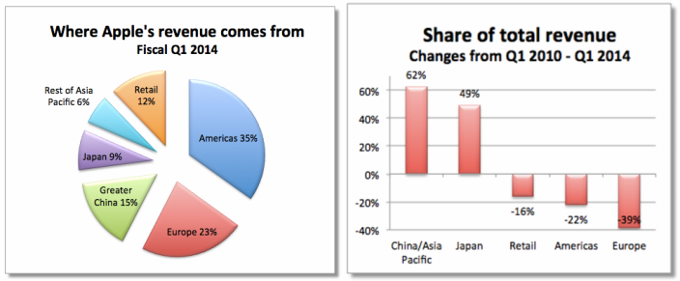 In the last few years, Apple has grown its business tremendously, especially in terms of profits, as Cupertino is the company that rakes in the biggest profits of any tech company by a huge margin. However, times are a-changing for the California-based firm that used to make nearly all of its profits from sales in America and Europe.
In the last four years, the geography of Apple's economy has become much more global. The company just announced its
record-breaking (yet below expectations) quarter
, and the results document two interesting facts. First, Apple's business has actually started contracting in its core American market, and it's gone nearly flat in Europe. Second, that disappointing performance was offset by huge growth in Asia.
In fact, Apple's combined sales in Asia reached a record $17.4 billion, edging on its $20.1 billion revenues in Apple's stronghold American market, and actually beating its $13.1 billion in revenues from Europe.
The biggest revelation comes when you look at the change in geography in Apple's economy over the longer, 4-year term. In the period from Q1 2010 until Q1 2014, Europe's share of Apple's revenue has contracted a whopping 39%, while the American market has lost 22% of its share in Apple's total revenue stream. The gains in China/Asia Pacific and Japan are - in stark contrast - tremendous. The share of revenue from China surged 62%, while the share of revenue from Japan grew 49%.
All in all, this is yet another indication that the smartphone market has reached a level of saturation in the American and European markets. Add to this the fact that iPhone sales in China are
"lower than anybody expected"
(a quote coming from Pacific Crest's analyst Andy Hargreaves), and it's no surprise that Apple gave a no-growth outlook for the next quarter.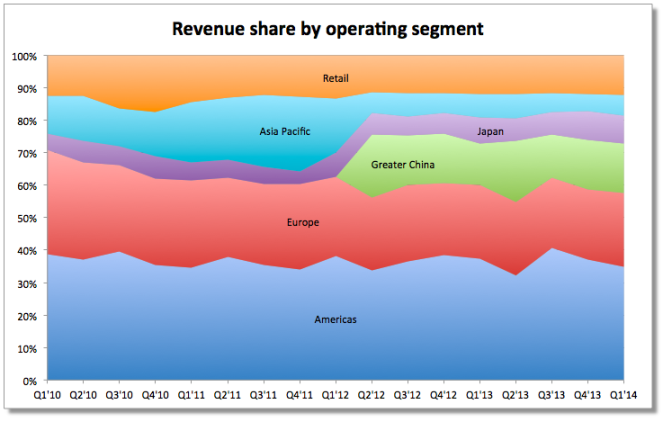 source:
Fortune