Apple to buy ARM for $8 billion?
This article contains unofficial information.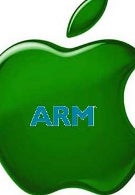 In a move that would change the face of mobile technology as it currently stands, Apple is rumored to be in talks to purchase Cambridge, U.K. based chip manufacturer ARM for $8 billion U.S. The report is coming from U.K. newspaper the London Evening Standard. ARM supplies chips for Apple's iPhone, iPod and the new A4 chips in its iPad. Other firms that rely on ARM are Nokia, BlackBerry, and Microsoft. Android phones made by Motorola and HTC also use ARM chips. In fact, most tech products smaller than a netbook rely on the company to supply them for products like routers, the Sony PSP and Nintendo DS. While $8 billion is not exactly pocket change for most companies, for Apple it is just one-fifth of the $40 billion in cash and short term investments the company lists on its latest balance sheet. For Steve Jobs and crew, the trickiest part of the deal might be obtaining the necessary government clearances that could block the completion of an acquisition. Apple and Jobs might have burned some important bridges lately. Ironically, Apple was one of the companies that formed ARM back in November 1990 as a joint venture between the Cupertino firm, Acorn Computers and VLSI Technologies. The initials stand for Advanced RISC Machines Ltd. In the next 24 hours, you can expect to hear opposition to the deal from other computer companies worrying that they will lose a steady supply of important parts for products that compete with Apple. However, the latter firm is ARM's largest customer and it does make sense for Apple to try to bring chip production in-house. One trader says that a deal would make sense for Apple because, "that way, they could stop ARM's technology from ending up in everyone else's computers and gadgets."
source:
LondonEveningStandard