Apple store is down, what a surprise
3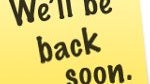 As is the case with every other Apple product release, their online store is now down ahead of the "
Let's talk iPhone
" event that is taking place within the hour in which the new iPhone will be unveiled.
The site simply shows a sticky note with the words "We'll be back soon." They are busy updating the site and they are going to be back shortly. In other words, they are getting ready to announce the new iPhone and once the site goes back up it will be there for everybody to check out for themselves.
Taking down the store ahead of a major product announcement has become a tradition of Apples. What can we expect to see once the site goes back up? Perhaps we will see both the iPhone 4S and the iPhone 5. Maybe we will only see the iPhone 4S. Either way the insanity is almost over, so bear with us until then.
source:
Apple