Apple starts iSight camera replacement program for certain Apple iPhone 6 Plus units
42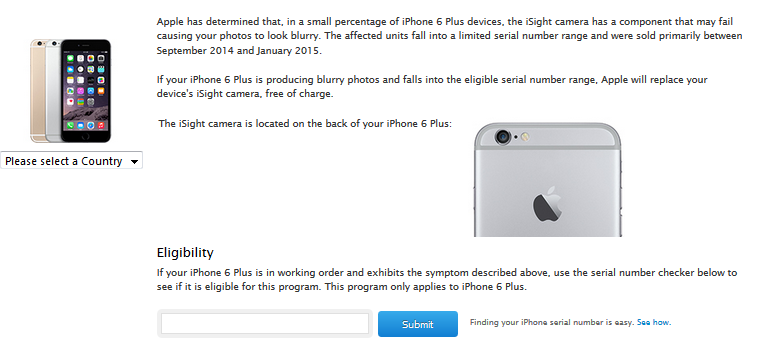 Apple will replace the iSight camera on certain iPhone 6 Plus models
Apple has acknowledged that it sold some
Apple iPhone 6 Plus
units with a faulty iSight camera between September 2014 and January 2015. The cameras on these iPhone 6 Plus models contain a bad component which results in blurry photographs being taken. As a result, Apple has initiated a free camera replacement plan to those units that fall within a small range of serial numbers.
Apple has put up a special support page for those who are affected. To qualify for the camera replacement, your iPhone 6 Plus needs to be taking blurry photos with the rear camera, and it must fall within a specific serial number range. The support page includes a box for you to type in the serial number of your iPhone 6 Plus to see if you qualify. You can find the serial number of your handset by going to
Settings
>
General
>
About
.
If your Apple iPhone 6 Plus falls within the serial numbers Apple is seeking, you need to head over to the nearest authorized Apple repair center, or go to the closest Apple Store. You can also go to the farthest Apple Store, although we don't know why in God's name you would do such a thing. Another option is to contact Apple Technical Support. The program will cover those iPhone 6 Plus units that qualify for a replacement camera, for up to three years. That is because affected phones might not show any problems immediately.
"Apple has determined that, in a small percentage of iPhone 6 Plus devices, the iSight camera has a component that may fail causing your photos to look blurry. The affected units fall into a limited serial number range and were sold primarily between September 2014 and January 2015. If your iPhone 6 Plus is producing blurry photos and falls into the eligible serial number range, Apple will replace your device's iSight camera, free of charge."-Apple
Because the faulty component is part of the OIS Apple employs on the larger iPhone 6 Plus, this problem will not affect owners of the
Apple iPhone 6
,
since Apple did not include that feature on the smaller phone's rear snapper. If you do own an Apple iPhone 6 Plus, we suggest that you check out the support page to see if you own one of the units that qualify for the replacement iSight camera. You can head to the support page by clicking on the sourcelink..
source:
Apple
via
RedmondPie