Apple, Samsung both suffer losses in German court
4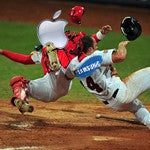 Apple and Samsung's legal saga took an amusing twist today, as both lost cases in a Mannheim court. Samsung lost on a standards-essential patent, while Apple suffered a loss trying to assert its slide-to-unlock patent against Samsung.
Apple's loss is interesting, since they
won an injunction against Motorola
with this
exact patent
in Munich last week. At the time many observers noted that it seemed ludicrous for Apple to have won on the patent, since the Neonode N1m
clearly introduced the feature
prior to Apple's patent application. Motorola has already announced they will appeal last week's ruling, and it's hard to imagine Apple not appealing today's loss, so the German court system will get a second chance at consistency.
Samsung has announced they will appeal their loss, although Samsung has
not had a winning track record
so far against Apple. It may seem strange at first blush that Samsung lost when asserting a standards-essential patent, but in this case the patent was on a manner of calculating a result – and as it turns out it was the result itself which is part of the standard, not the way it's calculated. Samsung failed to demonstrate that Apple is utilizing their patented method of calculation, so they were not found to be infringing. Samsung seems less than thrilled about their track record in court so far, and has retained a new legal team in Germany. We will have to see whether it has an impact on their win/loss record as time goes on.
Apple also is asserting a different sort of IP based on their slide-to-unlock patent. Called a Gebrauchsmuster (say that five times fast!), the "German utility model" is like a shorter-term patent (a decade rather than 20 years) that is easier to acquire, but also is looked at with greater skepticism by the courts. In particular, Gebrauchsmuster IP is intended to protect products rather than processes or methods, so it seems likely that this form of German IP won't end up entering our daily vocabulary, but it will be interesting to see if Apple has discovered a new lawsuit avenue.
In the meantime, basically nothing has changed with these two rulings, except perhaps to give Motorola some extra hope that they will be able to successfully appeal their lose at the hands of Apple's slide-to-unlock patent last week.
source:
FOSS Patents
,
DPMA