Apple shows off low light photography with the iPhone 7 in beautiful photos
41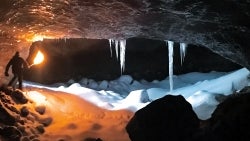 Apple is promoting the iPhone 7's low light photography capabilities with a series of rather exciting pictures taken by a group of photographers around the world. The photos, which originate from Indonesia, Antarctica, Iceland, South Africa, and Shanghai will be shown in 25 countries.
According to Apple, more photos are taken on an iPhone than any other camera in the world each day and night. Low light photography is notably helped by optical image stabilization, an f/1.8 aperture and a six-element lens on iPhone 7 and iPhone 7 Plus.
The larger f/1.8 aperture allows up to 50% more light onto the camera sensor than the iPhone 6s and optical image stabilization reduces blur from involuntary motion and handshakes. It also allows for exposure times that are up to three times longer compared to the previous generation iPhone.
You can see three of the photos in the gallery below. The rest are available on Apple's page –
link
.
ALSO READ
source:
Apple
Recommended Stories