Apple shares hit all time closing high; tech giant remains the most valuable firm in the world
46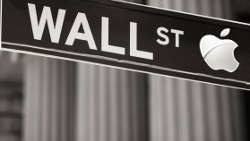 With a closing price of $143.80, Apple's shares hit an all-time closing high on Tuesday. After taking into account
the 7-for-1 split it recorded in June 2014
, Tuesday's close is equivalent to a price of $1,006.60 pre-split, and that is not only an all-time closing high for Apple, it is the highest valuation currently awarded any company still operating. At this moment, Apple is valued at $754 billion. To put that in perspective, Google parent Alphabet has a market cap of $568 billion, and Microsoft is worth $505 billion.
Since the
Apple iPhone
was first launched on June 29th, 2007, Apple's stock has risen 763%. Since the launch of the first
Apple iPad
on April 3rd, 2010, the shares have soared 346%. Another date of note was October 5th, 2011. Apple fans should know that this is
the date when Steve Jobs died
. From that day to the present, Apple's stock has rallied 166% under the leadership of CEO Tim Cook.
For those who like to dream, had you purchased approximately 120 shares (roughly $4,200) of Apple's stock when it went public on December 12th 1980, today you would be a millionaire. Of course, you would have had to sit through those lean years when John Sculley canned Steve Jobs. But things started popping upon Jobs' return. The success of products like the iMac, the iPod, the iPhone, the iPad and Apple Watch made Apple what it is today; the most valuable company in the world.
source:
YahooFinancial