Apple shares fall further for a 10% off all-time highs, carrier subsidies and profit taking to blame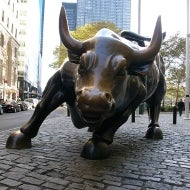 In a move that hasn't been seen for a while, Apple's shares fell another 4,15% yesterday, for a total of 10% off the all-time high of $644 a share. Different opinions have been bandied around for that correction in the stock price that interrupts a huge runup since the launch of the iPhone 4S, but one is prevalent.
The iPhone franchise accounts for the majority of Apple's revenue and profits, as it is made for roughly $200, and sold to carriers for $650 and up, of which they stomach about $450, and pass it to consumers for $199.
Carriers are apparently also adamant to diversify into other makes and models that don't require them to dig so deep in their pockets.
AT&T is betting huge on the Nokia Lumia 900 launch
, as the subsidy there is rumored to be much less than that for the iPhone or the flagship Android handsets, aiming to diminish the cash leakage to the major phone makers.
Still, other big ticket stocks like Google's were also down a lot yesterday, so the whole incident might be due to big tech investors doing some spring profit taking, and Apple's stock is still way undervalued compared to the earnings multiples of the average public company.
source:
Apple
(Google Finance)