Apple shares down after the iPad 3 announcement
20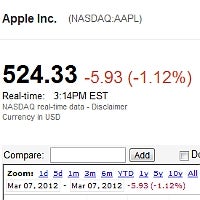 In a likely "buy the rumor, sell the news" scenario, Apple's stock is down in an up market today, after the
new iPad announcemen
t. The drop passed 1% at the time of writing this, so we are curious about the close and the next few days.
Apple's shares had a great runup until the announcement and speculators are probably getting out in droves now, cashing in on handsome profit margins, especially if they bought options a month or so ago.
The fruit company is with the largest market cap, and just rumors about the NASDAQ rebalancing its weight in the index brought the shares down recently. Not to mention how many investors - from pension to hedge funds - are loaded on Apple shares, so any significant movement down always brings a big kerfuffle with it.