Apple says that the iPhone 4S means business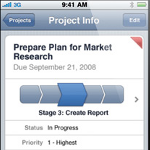 Quietly, Apple has
intensified its focus on the enterprise for the Apple iPhone
. A new landing page has been developed (see sourcelink) called "Not just another day at the office," and breaks down how the device can Organize your day, View your business, Manage Projects, Meet anywhere and travel light. Apple also has added a new tagline, "The iPhone 4S means business". The idea is to grab those BlackBerry users looking for a change, and show therm how the Apple iPhone is a legitimate business tool.
RIM was very happy, thank you, to hand over those free BlackBerry Alpha Dev handsets
(that many mistakenly thought was the first BlackBerry 10 handset for consumers) to those who attended the BlackBerry World Conference. In the same report written by Gillis, it was pointed out that based on data obtained by
Appcelerator
and
IDC
,
less than 16% of developers were "
very interested
" in writing apps for BlackBerry vs. 90% for iOS and 80% for Android
.
While BlackBerry still has the advantage of being perceived as more secure than the Apple iPhone, the latter has stressed its security offerings such as remote wipe. Another interesting point, brought up by
Trend Micro
, is that employees feel more productive using their own personal phone. For many, of course, that is the iPhone. And lastly,
Mobile Syrup
might have come up with the best reason of all for using the Apple iPhone as a business tool. If it is good enough for one of the most profitable companies in the world (Apple, duh),
the company with the highest market value assigned to it
on the globe, it is
probably going to work out for your business
.
"Heins' presentation only served as a reminder of the tough road the company has ahead as it prepares for the make-or-break
BlackBerry
10 launch. RIM knows consumers won't buy its new phones or tablets unless developers get excited about the platform and create a wealth of apps to operate on it."-Colin Gillis, BCG Partners analyst
source:
Apple
,
TrendMicro
via
MobileSyrup