Apple running trials with larger iPhone displays and 13" touchscreen panels, says WSJ
13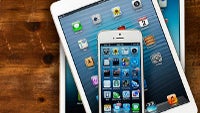 The Wall Street Journal chimes in today with its own sources confirming a lot of information about Apple's product plans for this year and further down the road.
First off, it seems that Apple is indeed testing larger iPhone screens of 4+ inches, like we heard before, when
Reuters supply chain sources claimed those sizes to be 4.7" and 5.7"
. Not content with enlarging just the future iPhones, Apple is apparently testing the waters with a larger touchscreen for the iPad, just shy of 13", say the sources.
We doubt this one will be for the iPad, though, it might just be for a MacBook with a touchscreen, or a new convertible of sorts, given what other manufacturers are doing with excellent pieces of hardware like the
ATIV Q
, for instance.
Naturally, a company like Apple will test numerous concepts and prototypes until it arrives at the final destination, and we shouldn't read the trials as if we'd get a 5.7" iPhone and a 13" iPad soon, but where there's smoke there's fire, since Cupertino is at least considering going bigger with its mobile device screens.
As for this year's crop, the Journal has probed the supply chain to confirm an iPhone with the current shell and screen resolution is coming our way, as is an iPad with lighter and thinner display package, which would make for a svelter tablet with the same resolution we have now. The sources also reiterated the rumor about the less expensive
iPhone Lite
that will come in a nonmetal body and in a variety of colors. Interesting enough, a color palette is confirmed for the
iPhone 5S
as well, indicating we might stray away from the black and white mantra this year.