Apple going with 4.7" and 5.7" iPhone trials for next year, colorful entry level one to be $99
59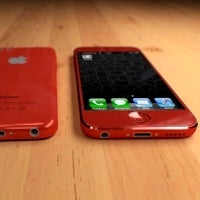 When it rains, it pours. After Apple entered the modern mobile OS era with
iOS 7
revealed on Monday, now sources with knowledge of the matter have confirmed for Reuters that Cupertino is actively looking into larger screens and affordable versions in more colors for its iPhone franchise.
While the colorful cheapo iPhone and ones with big displays have been
rumored to be in Apple's labs for a while
, for the first time we get the sizes that Apple is considering, and screenwise they seem to be in line with what the Android army is offering now.
Apple is reportedly seriously examining
4.7" and 5.7" sizes
, which is just shy of today's Android flagship and upcoming phablets average. Still, this doesn't mean those will see the light of day next year, but rather that Apple might be testing them to determine usability: "
They constantly change product specifications almost to the final moment, so you're not really sure whether this is the final prototype
," said one of the sources.
As for the
affordable iPhone
, it is indeed being actively worked on, looking similar to what we have now, but in casing made of different materials and painted in multiple colors. The price bandied about for it is around $99, and to get to that point Apple might be slipping the announcement into a later date even, mentioned the source.
The iPhone 5S with fingerprint reading technology and the entry level iPhone will reportedly start trial runs soon, with the flagship ramping up in August for the September announcement. The plastic iPhone was supposed to follow the same scheme and start test runs this month, but "
the mixing of colors is taking longer than expected as Apple has very high and idealistic standards
," said a source in Asia. Still, the plan for now apparently is to ship 20 million of those entry level iPhones in Q4, when the holiday shopping craze will be in full bloom.