Apple rumored to play it safe with initial orders for upcoming 12.9-inch iPad Pro
20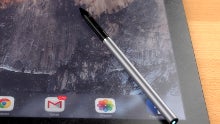 According to unnamed upstream supply chain sources quoted by Taiwanese publication Digitimes, Apple is planning to play it safe with the upcoming 12.9-inch Apple iPad.
Allegedly, Apple intends to produce the new iPad format in limited quantities, and has placed orders for a volume that is much lower than what most market watchers currently expect. Unfortunately, a more precise number was not given.
If rumors are anything to go by, Apple has considered making a larger version of the iPad since way back in 2013, but never materialized on its plans due to
worries of poor market demand
. According to this new report, Apple's supply chain will start mass-manufacturing the new iPad in late September, for an estimated mid-November launch.
Recent rumors and leaks suggest that the new iPad, expected to be called the iPad Pro or iPad Plus, will try to compete against the similarly-sized Microsoft Surface 3 Pro in the productivity market. Other rumored specs and features include a
2,048 by 2,732 display with the same PPI as the iPad Air 2
, a stylus and pressure-sensitive (Force Touch) touchscreen, USB 3.1 with Type-C connector, and a beefed-up chipset with all the RAM you can possibly need on iOS. Naturally, since most of these alleged specs don't come with any sort of evidence to support them, they should be considered with a hefty dose of skepticism.
According to reports, the
tablet market has started and will continue to plateau
. Apparently, the rise to popularity of large-screened smartphones is one key factor, while another is said to be represented by the long life/replacement cycle of the tablet. This is why, despite making what seems to be its meanest and baddest iPad yet, Apple is said to be cautious with initial shipments. As most Apple Watch owners experienced first hand this past Spring, this wouldn't be the first time this year that Apple has been cautious when placing orders for an off-beat device.