Apple revises the iPad, aims to prevent overheating issues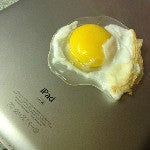 Without a doubt, the latest
iPad
is one hot piece of gadgetry. And we mean that quite literally as the device gets pretty warm during use –
noticeably warmer than its predecessor
. Yet although Apple claims that the
iPad runs well within its thermal specifications
, it looks like the tablet is being tweaked in order to make it run cooler.
According to
DigiTimes
, which is citing
"supply chain sources"
as usual,
Apple has revised the latest iPad.
Supposedly, the tablet's battery has been revised, and that is expected to prevent overheating issues.
An interesting side effect is that the modification might make the device lighter, although the sources do not provide any specific figures. There is another change that has been made to the device, namely that the camera's lens hole is being enlarged. There is no word, however, as to what made Apple introduce that change.
Yet don't expect going to your local Apple store tomorrow and picking up one of these revised iPads. According to the aforementioned sources, the units are expected to be released around the holiday season.