Apple reshuffles its line up: Apple iPhone 5S, Apple iPhone 5C and Apple 4S
33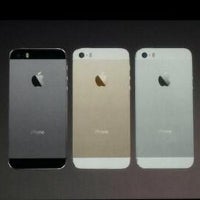 With today's unveiling of two new Apple iPhone models, Apple has reshuffled its line up. Prior to today, the
Apple iPhone 5
was on the top of the list, followed by the
Apple iPhone 4S
and the
Apple iPhone 4
was free on contract, used as an incentive by carriers. With the new models launching on September 20th, the new line up will feature the
Apple iPhone 5S
at the top, priced at $199 on contract for the 16GB variant, $299 for 32GB and $399 for 64GB. Despite earlier rumors, there apparently is
no 128GB model
.
Despite all the talk about the
Apple iPhone 5C
being a low-end option for Apple iPhone buyers, the truth is that this model replaces the
Apple iPhone 5
which is
exactly what Gene Munster predicted last month
. The specs are close with the Apple iPhone 5C carrying a better battery and an updated front-facing snapper. The Apple iPhone 5C is $99 on contract for 16GB and $199 for 32GB.
Replacing the Apple iPhone 4 at the low-end of the iPhone range is the Apple iPhone 4S. That means that Siri will be available for those who pick up the phone for free as an incentive to sign a two-year contract with a carrier.
Apple has certainly strengthened its line up which now contains two models with 4 inch screens, and all three phones offer voice activated personal assistant Siri. Now Apple needs to see if this new line up can knock the ball out of the park.