Instagram spying app is removed by Apple from the App Store
1
Apple has removed an app from the App Store that was designed to send notifications to Instagram subscribers whenever someone they followed left a comment or liked a photo. The app, called Like Patrol, made it easy to spy on other Instagram users and was even used by those in a relationship to keep an eye on whom their significant other was communicating with on Instagram. The app broke down the information by gender and even revealed the Instagram subscriber that each person communicated with the most.

The fact that Like Patrol was devised to spy on a significant other is apparent from the app's website which states "New guy? New girl? What are they up to on Instagram? With Like Patrol, you can see the posts they specifically like!" And among the information that the app provided was a list of models and fitness profiles that friends and family members commented about.
According to CNET
, Instagram sent a cease-and-desist order to the app's developers late last month. And this past Saturday, Apple said that Like Patrol violated the App Store's guidelines and had the title removed. It had first appeared in Apple's iOS app storefront in July.
Last month,
Instagram removed the "Following" tab from the activity feed
. This could be used by Instagram subscribers to see what posts their pals were looking at, liking, and commenting on. Now, the activity feed only shows people who leave likes and comments about the user's own photos. When Instagram removed the Following tab, it prevented Like Patrol from using some of this data for its app. So the developer of Like Patrol, Sergio Luis Quintero, said he developed his own algorithm to scrape data from likes and comments to supply users with the information that they paid for. Speaking of which, the app charged $2.99 a week or $80 for a full year. The developer said that less than 300 people had subscribed to the app before it was removed. What bothered many was that they did not have to consent to be tracked by Like Patrol. As long as someone was followed by a Like Patrol user, he or she could be under surveillance on Instagram thanks to the app.
Quintero called his app "the defunct 'Following' Tab on steroids" and said that he is not giving up on getting it reinstated in the App Store. "We strongly believe that our app does not violate Apple policies, we plan to appeal this decision in the coming days," the developer said. "If our app's functionality did violate any policies, then Instagram would have violated the exact same policies since 2011 to 2019 with the Following tab. Why weren't they taken down?" While an interesting question, this argument is not likely to hold any water with Apple or Instagram.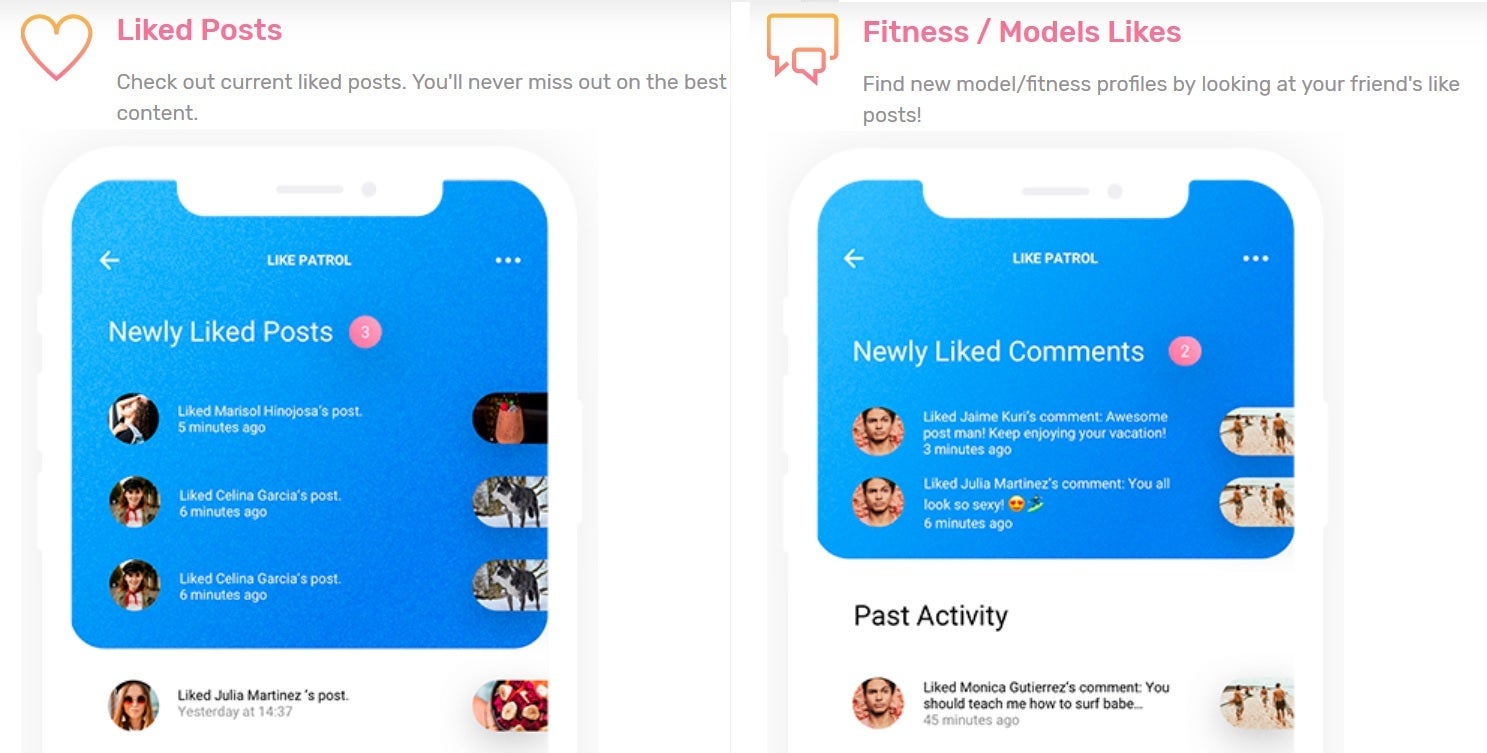 Some of the data that Like Patrol subscribers paid for
Before the app was removed by Apple, the developer said that "Our hope in the medium to long term is if enough people know of our existence they may think twice about behaving improperly." Following Apple's decision, Quintero said that he would make the app's tools open source in the next few days allowing anyone to use them. Even though most didn't classify Like Patrol as "stalkerware," some believed that the app was used by those who did not feel secure in a relationship. Of course, those who are prone to feeling like this are bound to head to an app that would allow them to spy on their boyfriend, girlfriend, husband or wife.

Facebook, which owns Instagram, has said that the app violates its rules against scraping data from accounts. The app has been banned from Instagram and Facebook and the social media company is reviewing other apps created by the same developer.

Recommended Stories