Apple pulls 1% of App Store listings over ratings scam
This article contains unofficial information.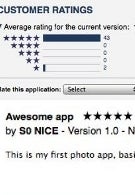 Apple head of worldwide product marketing Philip Schiller was presented with some interesting information. It seems that a friend of someone who works on the iPhoneography site noticed that photography apps listed by someone named Molinker were not only very similar to apps listed by other people, but that they all received about 50 5-star reviews. Combing through these reviews a bit more, it was discovered that only Molinker-listed apps were receiving these great reviews from the specific reviewers and all of them were written poorly in terms of grammar. What this App Store detective concluded was that the developer was using the 50 promocodes each developer receives for each listed app, to write great reviews on his own listings. Schiller, the subject of an interview in a recent New York Times story on the Apple App Store, received a letter about the situation and took immediate action.
In a written response, Schiller says, "Yes, this developer's apps have been pulled from the App Store and their ratings no longer appear either." Considering that Molinker had 1,011 apps that were removed, that is about 1% of the total number available at last count. Subtracting apps instead of seeing them multiply like rabbits is a new situation for Apple. And even though the bad actor involved was nabbed copying apps and placing bogus 5-star reviews on them, he feigns innocence. AppFreak managed to get in touch with Molinker about the removal of his listings and his response was, "We got email from Apple yesterday (Sunday, 6th) which told us our contract is changed to pending status. Actually, we do not know what's wrong so far. We had contacted Apple for such sudden changes, hope we can get quick response and actions from Apple." The bottom line? Don't rely on the reviews when determining which Apps to download.
source:
iPhoneography
,
appfreak
via
appadvice