Apple patents stylus that will write on all surfaces and transmits images to digital screens
96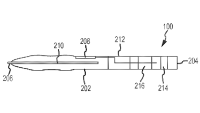 Apple has received a patent for a new stylus or smart pen that will take hand-written texts and drawings and display them on the screen of a device like a smartphone or tablet. This is an accessory that could come in handy in a classroom setting. If a teacher were to use the stylus on a whiteboard in a classroom, an accurate reproduction of the notes could be transmitted to students' tablets.
Interchangeable nibs will allow the user to write in ink or other materials. A capacitive version of the stylus is also mentioned. The latter would be used with the Apple iPad screen in the same manner as a traditional stylus. The device would activate when picked up from its dock, when its tip touches paper, or when it is manually turned on by the user.
A current smart pen, the Livescribe 3, has some of the features that are listed in Apple's patent. However, it is a lot more complicated as it uses an infra-red camera in its tip to capture handwriting, and requires the use of special paper and a large amount of power. Apple's patent, which was filed in 2010, covers a more capable stylus that uses hardware already produced by Apple for the iPhone and the iPad.
Apple would have to break plenty of tradition if it were to eventually offer a stylus for its devices. Steve Jobs' was dead set against the use of a stylus on his iDevices, but Apple has been known to cave to competitive pressures even if it meant going against its departed co-founder's wishes (hence the larger screens on the
Apple iPhone 5
,
Apple iPhone 6
and
Apple iPhone 6 Plus
. Samsung has enjoyed success with the S Pen for the Samsung Galaxy Note phablets and now there is talk of
LG offering the tool for the LG G4
. So don't be surprised if Apple eventually includes a stylus/smart pen with a future version of the iPhone or iPad.
source:
USPTO
via
AppleInsider