Apple patents new method for unlocking iOS devices
29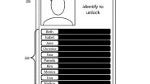 If the good old PIN codes or passwords don't feel good enough anymore, then probably a new method for unlocking an iOS device by Apple will soon allow you to use more creative ways to secure your handset or tablet.
Of course, there's absolutely no guarantee that Apple will implement this method in the future versions of iOS, but a patent application has recently surfaced describing how the technique could work in detail. Instead of having to enter a PIN code or a password, the user will be required to identify an object or objects in an image that's displayed on the screen. By the looks of it, in order to set this unlock method up, the device will have to scan its own storage space for images, and will then prompt you to add some key words describing these images. Each time you attempt to unlock your device, there may be a different image displayed. You'll be able to unlock device by either typing or saying the needed word.
Do you like this new unlocking method and would you use it should Apple decide to add it to iOS?
Here's the abstract from the patent application:
Techniques for authenticating a user of a computing device (e.g., handheld, desktop, laptop) are provided. In order to grant access to any of the services provided by the computing device, the computing device displays, to the user, one or more images that are stored on the computing device. The user is required to accurately identify one or more objects depicted in the one or more images in order to gain access to the computing device. The computing device is not required to be connected to any network at the time of authentication. Authentication data that is associated with object(s) in each displayed image may have been established previously by another computing device and then provided to the computing device.
source:
USPTO
via:
UnwiredView