Apple patents a unique approach to a truly 'edge-to-edge' iPhone: tiny display holes
52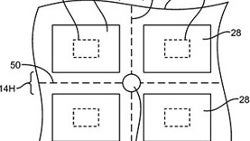 Apple is rumored to launch a surprise
OLED iPhone
with curved display this year, in addition to the more orthodox iPhone 7s and 7s Plus, or whatever they get named. The selling point of the OLED iPhone is allegedly an edge-to-edge display which would bring the phone's screen-to-body ratio to unseen heights.
So far so good, we even know that Samsung will be the chief supplier of flexible OLED panels for the phone, but what about the "all-screen," "edge-to-edge" part of the story? At the top bezel area of today's phones, we are used to seeing plenty of indispensable components nesting comfortably - the earpiece slit, the front camera, the light and proximity sensors, the notification blinker, and even LED flashes or iris scanners. Where will those go if there is no, or a very minimal top bezel?
Well, the recently announced
Xiaomi Mi Mix
holds a clue - it fits a 6.4" panel in a body more akin to a 5.7" phone by placing the tiniest selfie snapper that could be found at the bottom, using piezoelectric ceramic acoustic system for phone calls, and replacing the typical infrared proximity sensor with a sonar of sorts. Apple, however, might be going a step further, and instead of changing and rearranging those elements, puts them under the display package, with tiny empty spaces in the display ensuring access to them.
Yep, that is exactly what an Apple patent filing has unearthed recently - microscopic pores in the display packages that are near-invisible to the human eye, and, presumably, aren't going to affect the viewing experience. From there, however, we might be able to access sub-screen speakers, cameras or sensors, but how exactly would that work in practice, remains to be seen. The "holes" are depicted with different shapes and different positions relative to the screen's actual pixels, so they must be really, really small, and unobtrusive. This is a pretty radical approach, requiring an OLED display, as LCD screens need to have uninterrupted backlighting layer underneath the screen. Well, the rumored OLED iPhone fits that bill, so the Apple patent you see below may materialize soon enough.