Apple patents a Smart Case with a secondary display
46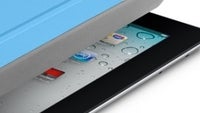 If a day comes when the iPad Smart Case gets even smarter, it might look like what is pictured in this Apple patent filing. What's being described is a smaller, secondary display present on the accessory, either occupying some or its entire inner surface. The screen itself is supposed to be flexible and sensitive to touch.
The potential applications for this futuristic iPad Smart Case are numerous, starting from adding room for additional icons, controls for the music or video players, or displaying status notifications, to using the extra real estate as a virtual keyboard, which would leave more room for content to be displayed on the iPad's primary screen.
But although Apple patents are often fascinating to look at, only a few of them materialize eventually. That said, don't expect this Smart Case concept to land on shelves anytime soon. Yet if it ever does see the light of day, what do you think it might be really useful for? Let us know what you think by dropping a comment below.
Recommended Stories