Apple patent may show off design of iPhone nano
This article contains unofficial information.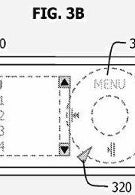 A patent filed by Apple was discovered today, and it apparently hints at the design for an iPhone nano. Often the subject of rumors, even if the patent is for such a device, there is no guarantee that it will ever be made. According to the details of the patent, the entire front of the phone would be a display. The back would feature a "force-sensitive touch based surface". At least we know that even in Cupertino, The Quick Brown Fox still Jumps Over The Lazy Dog.
source:
BGR