Apple passes on Samsung's truce offer for the Galaxy Tab 10.1 in Australia, says it is just buying time
17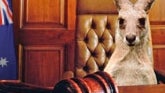 Samsung has told the judge in the Australian patent infringement case against its
Galaxy Tab 10.1
tablet that
the deal it proposed to Apple in order to continue with the slate launch
, has stalled: "
It is not going to be achievable your honor, given the positions advanced by each party,
" was the comment of a Samsung lawyer.
Apple's attorney Steven Burley said they won't be tricked into anything that will entail Samsung restarting the sales and marketing activities of the Galaxy Tab 10.1, and that Samsung's offer and its maneuvering regarding presence on an earlier hearing is all just trying to buy time, so as it can launch the slate:
It is one we don't accept and there is no surprise. The main reason we are here is to prevent the launch and maintain the status quo... The decision as to not being available to conduct an early final hearing is no more than a tactical one -- a tactical one which is designed to maximize the chances of Samsung launching what we would submit as an infringing product.