Apple no longer claiming trademark on "Multi-Touch"
45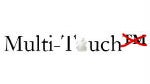 For quite a long time, Apple has been trying to gain a trademark for the term "Multi-Touch", but it seems like Apple has finally accepted defeat in that battle. The evidence comes from the announcement of the new
128GB iPad 4
that we saw earlier today. In the official press release on Apple's website, AutoDesk's Amy Bunszel is quoted as referring to the device's "Multitouch display".
This is notably different, because it isn't written "Multi-Touch" as Apple has been doing on all other documentation, but more importantly because it doesn't have the trademark symbol next to it. Apple has been using the trademark symbol next to "Multi-Touch" since the first iPhone was announced, even though it was never granted the trademark.
Apple applied for the trademark when the first iPhone was announced, and just over a year ago in December 2011, the U.S. Trademark Office officially ended Apple's efforts, saying "We are not sympathetic to applicant's arguments. It is not apparent... to what extent 'Multi-Touch' has made an impression on purchasers." The Trademark Office went on to site a number of competing products that also used the term "multitouch", like the Palm Pre, the Nexus One, and various Windows PCs.
Apple had been continuing to use the ™ symbol, which indicates an unregistered trademark that really doesn't mean anything (the only important symbol is the official ® mark.) Now, it looks like Apple has finally given up the unofficial trademark claim, and even the odd way of writing the word.