Apple's new website makes it easier to see government requests for info on its devices and more
10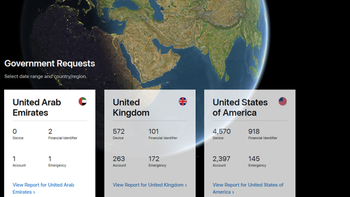 Apple has launched a new website
(via
Tech Crunch
) for its biannual transparency report. This report details the number of government requests Apple receives for customer information related to its devices. Originally available to the public only in PDF format, Apple is using its new website to make this data easier to access and understand for its customers. The information shows up with each country listed in alphabetical order, and tapping on a link breaks down the data into more detail.
The government requests are divided into different categories, and some requests are included in more than one of them. The different categories include:
Device-a request from the government for a serial number or IMEI number to help identify a particular device.
Financial Identifier-a request from the government for credit card or gift card information.
Account-a request from the government for account information such as an Apple ID or an email address.
Emergency-a request from the government for information related to a matter deemed to be an emergency.
During the first half of the year, the U.S. government requested information from Apple on 4,570 unique devices. It asked Apple for data on a Financial Identifier 918 times, and for account information 2,397 times. Requests for data on an emergency basis came up 145 times. However, Apple wasn't able to turn over the requested data each and every time the government asked for it. Apple was able to provide the government with 81% of the device info requested, 84% of the Financial Identifiers it was asked for and 87% of the Account data that was wanted. On those matters deemed to be emergencies, Apple responded with the information 89% of the time. The U.S. had the most request in each category for the first six months of the year, except for the emergency requests. In the U.K., Apple received 172 such government demands for information during the six month period, 17 more than it received in the states.
Government request circumstances can vary from instances where law enforcement agencies are working on behalf of customers who have requested assistance regarding lost or stolen devices, to instances where law enforcement are working on behalf of customers who suspect their credit card has been used fraudulently to purchase Apple products or services, to instances where an account is suspected to have been used unlawfully. Requests can also seek to preserve an Apple account, restrict access to an Apple account or delete an Apple account. Additionally, requests can relate to emergency situations where there is imminent harm to the safety of any person"-Apple
Those who would rather view the data using a PDF file can see the report right
here
.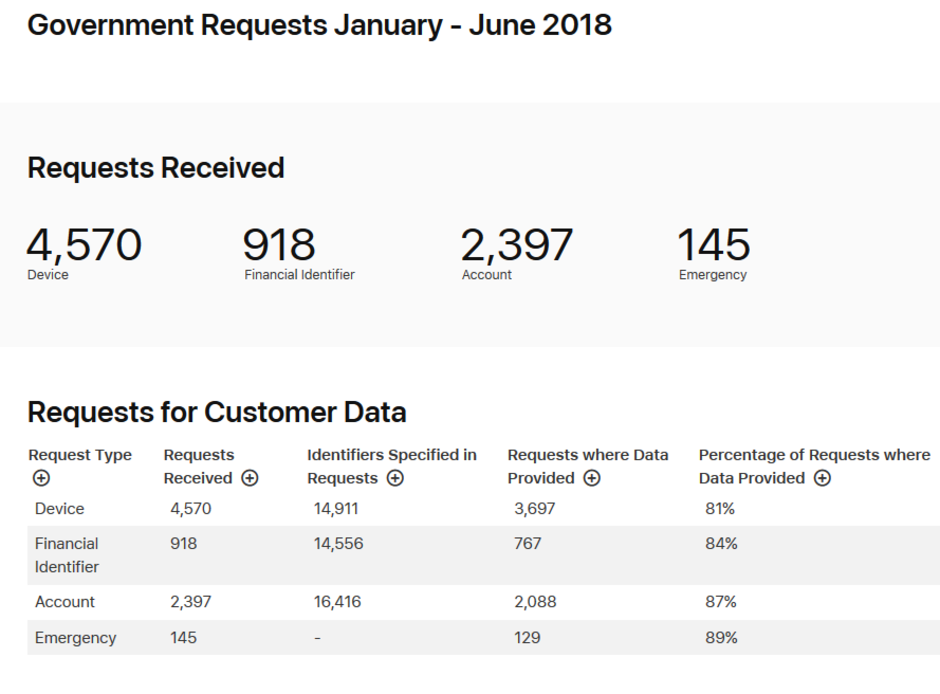 Apple makes its transparency report easier to access and read
Recommended Stories