Apple led in worldwide shipments of tablets in Q4; Amazon finished second, surpassing Samsung
18
The Apple iPad was the most shipped tablet in the world during the fourth quarter of 2017. For the three months from October through December, Apple delivered 13.2 million slates; that was up .6% from the 13.1 million that it shipped during the same quarter in 2016. Apple owned 26.6% of the global tablet market during the last three months of 2017. Cupertino's focus on the iPad Pro should continue this year. The next version of the high-end iPad is expected to be
equipped with an edge-to-edge screen
, similar to the
iPhone X
, and include the TrueDepth Camera and Face ID.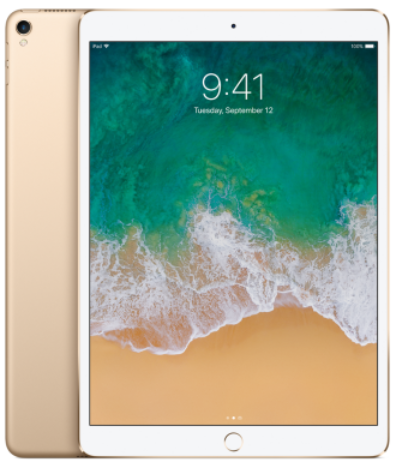 The 2018 Apple iPad Pro models are expected to include Face ID
Usually you would find Samsung in second place, right behind Apple. But the company has been knocked down to third place, with Amazon taking over the runner-up position behind Apple. Amazon was helped by price cutting during the holiday season, and the inclusion of its popular Alexa virtual assistant on newer models. Amazon shipped 7.7 million tablets in the quarter, up 50.3% from the Q4 2016 total of 5.2 million. That took the company's market share from 9.6% to 15.6%.
While Samsung's detachable tablets showed growth, the rest of its line did not. As a result, during the fourth quarter of 2017 Sammy shipped 7 million tablets. That was a 13% year-over-year decline, which dropped the company's market share to 14.1%. Huawei (3.5 million units shipped) was fourth with 7.1% of the tablet market during the quarter, and Lenovo (3.1 million units shipped) took fifth place with 6.2% of the market.
Overall, 49.6 million tablets were delivered from October through December 2017. Compared to the same three months in 2016, tablet deliveries were down 7.9% from the 53.8 million units shipped the year before.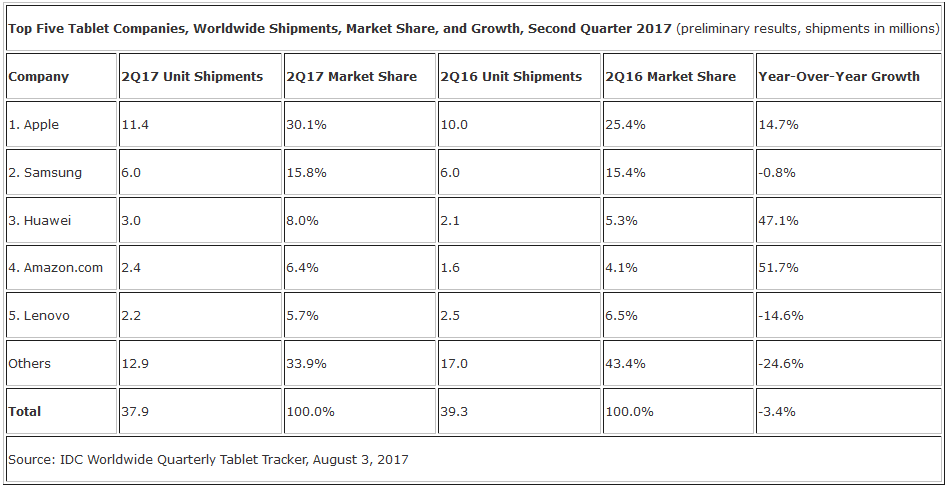 Apple led manufacturers in shipping tablets worldwide during the fourth quarter of 2017
source:
IDC