Apple just burned $100,000,000 in fruitless attacks on HTC
59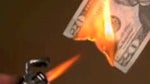 According to legal professionals speaking to Newsweek reporter Dan Lyons, Apple dropped $100 million dollars on its first round of legal battles against HTC. Yet despite that king's ransom Apple has little to show for it in the ongoing mobile patent wars.
Last month Apple saw its first (and so far only)
victory against HTC
, but it was only for a limited interpretation of one of the ten patents Apple has so far asserted against HTC, and HTC announced they were ready to
ship a work-around
within 48 hours. We're not math experts, but that doesn't seem like a lot of legal bang for Apple's bucks.
It's still possible that Apple may score a larger victory against HTC next year when the last of the current ITC rulings are due. And they may elect to move ahead with federal lawsuits, or open up new countries and new court systems. Of course
HTC
and other
Apple foes
have responded with lawsuits of their own, so there stands a reasonable chance that Apple may suffer a serious legal setback in the coming year. When Apple lost a patent fight with Nokia, it cost them
much more than $100 million
.
Having helped to kick off the patent wars, Apple in many ways brought this upon itself. Of course there was likely more than an even-headed financial strategy behind the initial legal onslaught; rather famously Steve Jobs was reported to view Android as "
stolen product
" and vowed to spend whatever it takes to defeat it.
Hopefully Apple will not actually need to "spend every penny" to realize the fruitlessness of litigation as a competitive strategy. With legal costs piling up and competitors
banding together
to strengthen their leverage against Apple, the price can only get higher from here. Now that Tim Cook is making decisions on the future of Apple's legal strategy, we hope he will see the wisdom in finding ways to settle the lawsuits or negotiate licensing fees, so they can get back to what Apple does best: make well-designed consumer products.
source:
Real Dan
via
BGR