Apple is the most valuable brand globally for the fifth consecutive year
44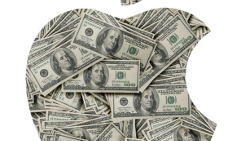 For the fifth consecutive year, consultant Interbrand has named Apple the most valuable brand on the planet. The value of the brand is $184 billion, according to the latest report, which is up 3% over last year's figure. Some of Apple's rivals are in the top ten with Google in second place. The Alphabet subsidiary has a brand worth $141.7 billion, 6% higher than the 2016 valuation.
Microsoft takes third place, and its 10% year-over-year hike in value means that the brand is worth $80 billion. Amazon, led by its Echo smart speaker, saw its 5th place brand rise 29% in valuation this year to $64.8 billion. Samsung was right behind in 6th place. The South Korean tech giant's brand value is $56.2 billion, up 9% from 2016's figure. With a stunning 48% increase in the value of its brand name to $48.2 billion, Facebook is the last mobile tech firm in the top ten.
Other important names in mobile tech include Intel (number 15) with a value of $39.5 billion, up 7% from last year. HP (number 53) saw its brand value drop 8% to $9.5 billion, and the Adobe brand (number 56) rose 19% this year to hit a value of $9.1 billion. Sony's (number 61) brand is valued at $8.5 billion after a 2% year-over-year hike. The Huawei (number 70) brand name is now worth $6.7 billion after a 14% year-over-year increase.
Netflix made its first entry in the list, debuting at number 78 with a name worth $5.6 billion, and PayPal came in at number 80 with a value of $5.4 billion, up 12%. Taking spot number 100 is Lenovo. The owner of the famous Motorola name (which ironically did not appear in the top 100), Lenovo's brand is valued at $4 billion, down 1% for the year.
You can check to see where your favorite company appeared in Interbrand's top 100 valuable brands of 2017 by clicking on the slideshow below.
source:
Interbrand
via
AppleInsider