Apple is sued by Caltech over the use of four Wi-Fi patents
99+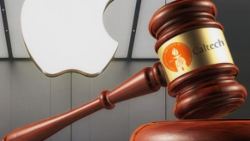 Just the other day, we told you that
Apple's legal team had its hands full with portfolio holding company VirnetX
. The latter had won a jury award of $625 million against Apple, and was seeking an additional $190 million. It also asked the judge to force Apple to shut down its iMessage and FaceTime features.
Now, Apple's attorney's are being called on again to defend the company in another patent infringement case. California Institute of Technology, known as Caltech, is suing both Apple and chipmaker Broadcom over the use of four patents relating to Wi-Fi. According to the suit, a Broadcom chip used in all Apple devices since the
Apple iPhone 5
, copies certain Caltech technology. As a result, the school is seeking damages and a ban on the devices using the chip.
Apple's legal team will have its work cut out for it. While Broadcom is the company that produced the infringing chip, Apple is its largest customer accounting for 14% of the firm's revenue. In addition, the jury isn't likely to lump a school like Caltech in with odious patent trolls.
Considering that Broadcom's chips are crucial for Apple's devices to connect with 802.11n and 802.11ac Wi-Fi, it might be in Apple's best interests to cut a check quickly to settle the matter before a jury sympathetic to Caltech gets its hands on the case.
source:
TheVerge
via
Engadget